KINGMAX Introduces M.2 2280 PCIe NVMe Gen3x4 SSD
January, 2019
KINGMAX Introduces M.2 2280 PCIe NVMe Gen3x4 SSD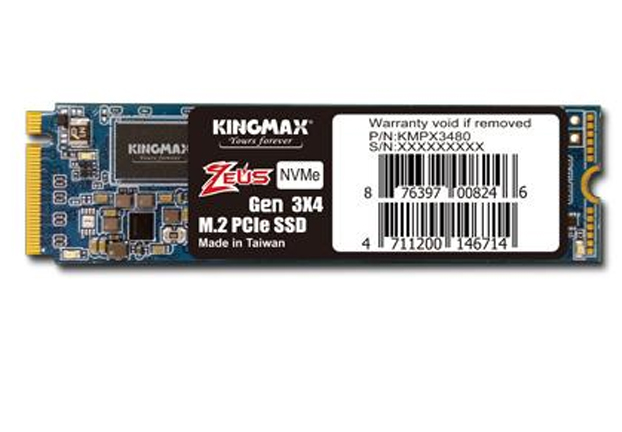 Due to the growing demand for smaller and faster storage, M.2 PCIe NVMe SSDs are getting more popular for their high performance and compact size. In order to fulfill different storage needs with more product offerings, KINGMAX releases M.2 2280 PCIe NVMe Gen3x4 SSD PX3480 which is compatible with most M.2 NVMe 1.3 standard supported devices including ultrabooks and gaming laptops.
KINGMAX M.2 2280 PCIe NVMe Gen3x4 SSD PX3480 features high sequential read/write speeds of up to 3,400/3,000 MB/s, where its read speed is 6 times faster than SATA III SSDs. Furthermore, it applies the intelligent SLC Caching and DRAM Cache buffer technology to further accelerate transferring speeds and system response time. In addition to its high R/W performance, the Zeus PCIe NVMe SSD is designed with a tiny M.2 2280 form factor that lets users store up to 1TB of their important files without occupying much space of their thinnest notebooks, mobile applications, and PC desktops.
KINGMAX Zeus M.2 2280 PCIe NVMe Gen3x4 SSD PX3480 supports LDPC (low density parity check) ECC (error correction code) technology to effectively detect and correct R/W errors for higher data accuracy and a longer lifespan. It also supports TRIM command, wear levelling and garbage collection to guarantee higher durability by decreasing data amplification and wear of the flash cell. The M.2 PCIe SSD PX3480 enables NCQ command, which can improve an SSD's performance by optimizing its read/write executions. The S.M.A.R.T. monitoring system is also applied to prevent data loss for it can perform early detection of potential future failures.
According to the company, the M.2 PCIe SSDs PX3480 are good for gaming, media editing and multitasking and can become good storage upgrade for both budget- or performance-oriented users but, unfortunately, they can eventually break like all electronics and result in data loss. Then their owners will need to contact a professional data recovery services provider to get their irreplaceable files back.
ACE Data Recovery has been in the business for more than 35 years and has become the proven leader in providing all media data recovery solutions. ACE Data Recovery team provides data recovery services on a full range of solid-state drives for all makes and models of notebooks and laptops. The company's SSD data recovery process meets the manufacturer's requirements. ACEs will gladly help the KINGMAX Zeus M.2 2280 PCIe NVMe Gen3x4 SSD owners with their data recovery needs.