Intel Launches the 1.5 TB Optane SSD 905p
November, 2018
Intel Launches the 1.5 TB Optane SSD 905p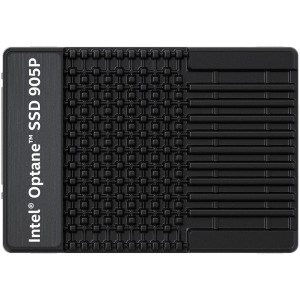 Recently, Intel has launched their Optane SSD 905p family which expands the maximum available capacity of Optane drives to 1.5 TB up from 960 GB. These drives are based on the 3D XPoint memory standard and offer the best available performance in SSDs short of going the RAM-disk route.
Intel's flagship consumer SSD family is still split between the Optane SSD 900P and 905P, with the more recent 905P filling out the higher capacities while bringing modestly improved performance and power efficiency. Built around Intel's 3D XPoint memory technology, the Optane SSD 905P was originally launched in 480GB and 960GB capacities. The 480GB model was confined to the U.2 form factor, and the 960GB model took the form of an AIC. Now consumers can pick up the Optane-powered SSD in three new presentations. The 960GB model is now available in the U.2 format. The new 1.5TB model is available in both the U.2 and HHHL AIC form factors.
All Intel Optane SSD 905P drives employ the same internal hardware and communicate with the processor through a PCIe 3.0 x4 interface so performance is fairly static across all models no matter the capacity or form factor. Consumers can expect sequential read and write speeds up to 2,700MB/s and 2,200MB/s with 4K random read and write speeds in the range of 575,000 IOPS and 550,000 IOPS. The 480GB model is rated with an endurance of 8.76 PBW (petabytes written), while the 960GB and 1.5TB models have a 17.52 PBW and 27.37 PBW rating, respectively.
According to the company, the Intel Optane SSD 905P provides an industry-leading 10 DWPD. Intel claims it is the highest endurance client SSD in the market today. The company promises that professionals with the most demanding storage workloads can count on years of performance without the need for frequent drive replacements.
But no matter how good Intel Optane SSD 905p drives are, they still may fall victim to logical and physical failures. Then professional users, content creators, and enthusiasts who own these drives will need to contact a reliable data recovery services provider to get their irreplaceable data back. Recovering data from high-capacity SSDs is challenging but ACE Data Recovery team will welcome the opportunity to help the Intel Optane SSD 905p owners with their data recovery needs. ACE Data Recovery engineers use sophisticated software and hardware tools and have extensive experience in recovering data from all storage media. ACEs can recover data that other companies can't.