Intel launches 800P Optane SSD
March, 2018
Intel launches 800P Optane SSD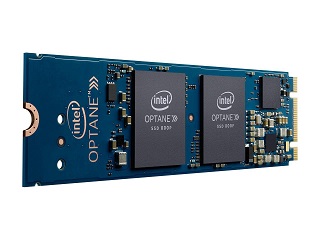 Following last year's Optane SSD 900P offering for prosumer PCs, Intel is now offering a lighter mainstream consumer edition, called the Optane 800P SSD. The new Intel Optane SSD 800P is an M.2 2280 solid state drive that uses an NVMe PCIe 3.0x2 interface and comes in 58GB and 118GB capacities.
According to Intel, the system can support sustained sequential read speeds up to 1450 MB/s and sequential write speeds up to 640 MB/s. It supports 4K random read speeds up to 250 thousand IOPS and 4K random write speeds up to 140 thousand IOPS.
Intel launched its Optane and 3D XPoint memory technology SSDs to work alongside and accelerate existing hard drives. Last year's 16GB and 32GB Optane Memory modules were only intended for caching to assist a larger hard drive. According to Intel, the new 800P Optane SSDs can be used either as standalone storage or in dual-drive or multi-drive RAID setups.
Users can use one of the drives to replace a traditional NAND flash SSD in a laptop, desktop, or tablet PC. Intel says that their Optane SSDs are now supported on 280 motherboards from vendors like ASRock, GIGABYTE, ASUS, MSI, BIOSTAR, EVGA and SuperMicro.
The new drives also have a few other improvements including a deep sleep low power state which consumes just 8 mW, making the new drives better suited for use in laptops, tablets, and other battery-powered devices.
The Intel 800P Optane SSDs can appeal to buyers who don't need much capacity but do need guaranteed reliability and steady performance but like all storage media, they may fall victim of logical and physical failures that can result in data loss. To get their critical files back, the owners of the Intel 800P Optane SSDs will need to contact a professional data recovery services provider.
ACE Data Recovery team retains market leadership in data recovery technologies and offers a wide range of options to computer users, including SSD data recovery. ACE Data Recovery engineers are armed with proprietary techniques, tools, and experience needed to recover your data. ACEs can recover data that other companies can't and make the best choice when you need to get back data from any type of storage device.