Intel Launched New 905P Optane SSD Series
May, 2018
Intel Launched New 905P Optane SSD Series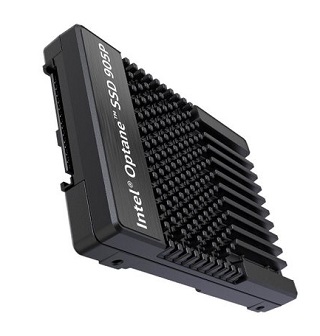 Intel has just released the Optane 905P SSDs, the latest additions to their enthusiast grade Optane line-up of drives. The 905P range is based on the previous 900P series, which was released last year, but the new SSDs feature improved performance and twice the capacity compared to the earlier models.
The latest 905P drives are based on 3D X-Point technology, which is a new type of solid-state, non-volatile memory developed by Intel and Micron. Compared to NAND flash, which is used in traditional SSDs, 3D X-Point offers up to 10 times better performance and up to 1,000 times better endurance. The 3D X-Point drives have already proven to be superior performers, and the 905P builds on that success, upping sequential and random read/write speeds over the 900 models.
As with the 900 family, the 905P comes in U.2 or HHHL (half-height half-length) expansion card form factors, but doubles the storage capacity to 480GB and 960GB, respectively. The 905P HHHL version also gets a bit of design flair with blue LED lights that will appeal to gamers. The new drives retain the same 5-year warranty the 900 series includes.
The top model comes in the form of PCI-e add-in card, which offers 960 GB of storage and is capable of 2600 MB/s sequential read and 2200 MB/s sequential write performance. The random read and write performance of the drive is rated at 575,000 IOPS and 555,000 IOPS respectively, which is a significant improvement over the 900P's 550,000 IOPS read and 500,000 IOPS write.
The second variant is a traditional 2.5" drive utilizing the U.2 PCI-e 3.0 x4 interface. This model is available in 480 GB capacity and offers performance similar to that of the larger drive while drawing little less power. The casing of the drive is a simple black enclosure which acts as a heat sink as well.
The new Intel Optane 905P SSDs promise improved performance and offer greater capacity for workstation users and desktop enthusiasts, but like all storage media, they may fall victim to logical and physical failures that may cause critical files inaccessibility. To get their irreplaceable data back, professional users and enthusiasts will need to contact a reliable data recovery services provider.
ACE Data Recovery has been in business for over 35 years and has the right technology and experienced engineers to successfully recover data from any type of storage device. With the most advanced recovery capabilities, ACEs have the highest recovery rate in the industry and will welcome the opportunity to help the Optane 905P SSD owners with their data recovery needs.