Gigabyte Enters the SSD Market with New UD PRO SSDs
May, 2018
Gigabyte Enters the SSD Market with New UD PRO SSDs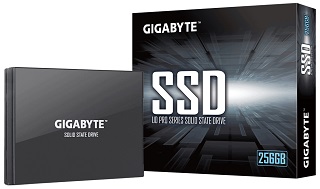 When it comes to selecting a solid-state drive, current consumers already have a number of go-to brands to choose from: Western Digital, Samsung, Transcend, Crucial, Transcend, Intel, and more and each of these makers can be the right choice, depending on your budget or performance needs. Soon, however, there will be one more option to choose from. Gigabyte which is well-known for its motherboards and graphics cards is entering the storage market with the launch of its new UD (Ultra-Durable) PRO SATA SSD lineup.
The new UD PRO SSDs come in a 2.5″ SATA form factor and will be available in 256GB, and 512GB capacities. The new Gigabyte SSDs will be using Toshiba's BiCS3 3D TLC NAND flash and Phison's PS3110-S10 memory controller.
The company claims that, in comparison to standard SSDs without built-in buffer cache, Gigabyte UD PRO series SSDs are twice as effective even when its flash memory is at full capacity. According to Gigabyte, the new SSDs can have sequential read speed up to 530 MB/s and write up to 500 MB/s. The 256 GB model has random IOPS at 70,000 (read) and 40,000 (write), while the 512 GB model is higher at 80,000 (read) and 75,000 (write). Both of them have MTBF rated at around 1,800,000 hours and endurance at 100 TBW or 200 TBW respectively, which are a bit less than other competitors.
The prices for the Gigabyte UD PRO SSDs look very aggressive at $68.99 and $119.99. The drives may be a good low-cost alternative to the Samsung 860 EVO and other top performance SSDs shipping today, but like any other storage media, they are vulnerable to logical and physical failures that may lead to critical files inaccessibility.
To get their irreplaceable data back, owners of the Gigabyte UD PRO SSDs will need to contact a certified data recovery services provider. ACE Data Recovery has been on the market for more than 35 years and has a vast experience in recovering lost data from different types of storage media, including SSDs of all makes and models. Experienced engineers from ACE Data Recovery team will welcome the opportunity to help the Gigabyte UD PRO SSD owners to get their valuable data back.