GIGABYTE Showcases AORUS NVMe SSD, RTX 2060 series
February, 2019
GIGABYTE Showcases AORUS NVMe SSD, RTX 2060 series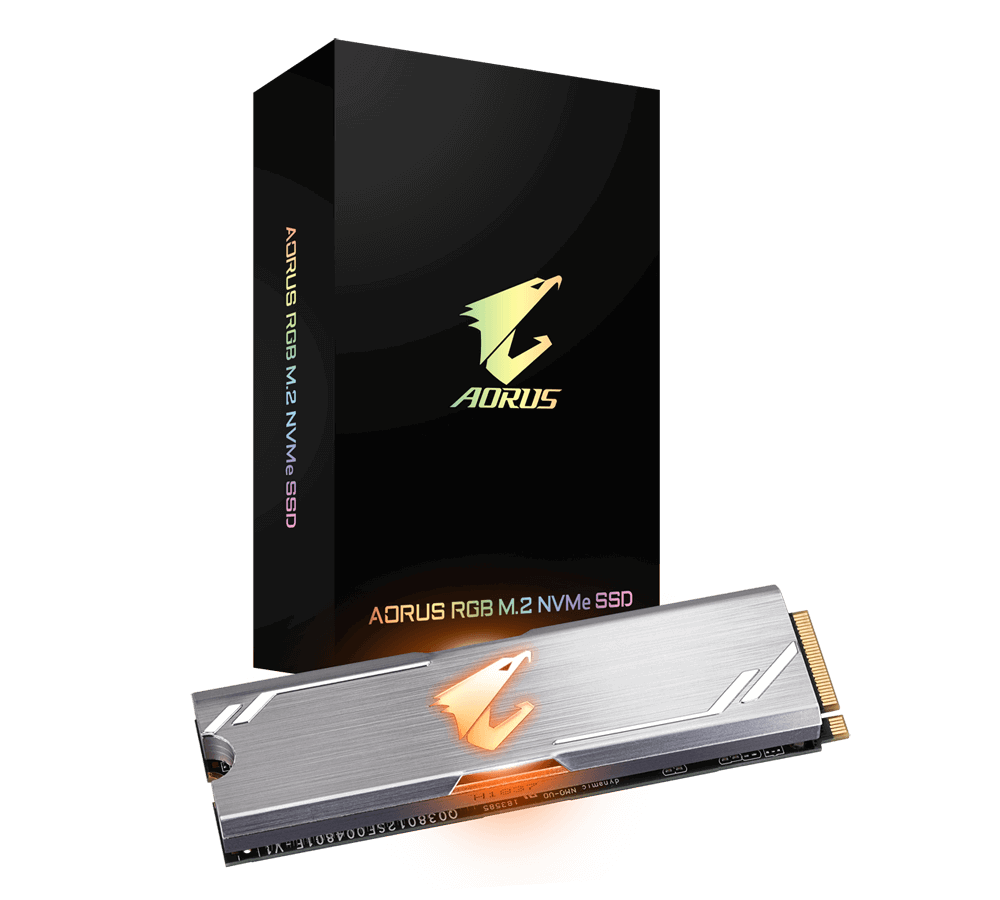 CES is a great opportunity to announce something new and exciting and GIGABYTE also did just that and used this year's CES to launch some new products. Along with new keyboards, monitors, mice, GIGABYTE also showcased the new AORUS NVMe SSD to freshen up its SSD lineup and multiple models of the recently launched RTX 2060.
GIGABYTE has improved its M.2 PCIe Gen3 X4 SSD by infusing aesthetics and style to its new NVMe based, PCIe Gen3 X4 AORUS RGB SSD. The newest AORUS RGB SSD comes in two form factors, AIC and M.2, and offers a selection of mainstream storage capacity options.
AORUS RGB M.2 SSD comes in two mainstream storage capacities: 256GB and 512GB. The SSD delivers sequential read speeds up to 3480 MB/s and sequential write speed up to 2000 MB/s. It is built with anodized, aluminum heatsinks to ensure adequate heat dissipation and consistent storage performance. The hairline finish on the heatsinks offers a clean-cut, elegant look and the AORUS Falcon logo serves as a core part of the design.
The AORUS RGB AIC SSD offers larger storage capacity options than the M.2 version, with 2 variants of 512 GB and 1 TB of storage. The sequential read speeds are up to 3480 MB/s while the write speeds are up to 3080 MB/s. The heatsink design of the AORUS RGB AIC SSD is inspired by the Z390 AORUS Motherboard series. AORUS RGB AIC SSD uses the same heat sink design to deliver a similar thermal performance which is way better than what a standard AIC SSD offers. A 0.5cm thick dark gray aluminum matte heatsink as well as cross cut heatsink has been added and a thick LAIRD Thermal Pad has been placed between the heatsink and flash memory.
GIGABYTE also showcased several different models of the just-launched NVIDIA GeForce RTX 2060. GIGABYTE launched 6 graphics cards - AORUS GeForce RTX 2060 XTREME 6G, GeForce RTX 2060 GAMING OC PRO 6G, GeForce RTX 2060 GAMING OC 6G, GeForce RTX 2060 WINDFORCE OC 6G G, GeForce RTX 2060 OC 6G, GeForce RTX 2060 MINI ITX OC 6G. They also announced an ITX version of GeForce RTX 2070 too in the near future.
The new GIGABYTE AORUS NVMe SSD and RTX 2060 series graphic cards will be good storage options for computer users but, unfortunately, they may eventually fail and their critical files may get inaccessible. Then the owners of the new GIGABYTE storage media will need to contact a reliable professional data recovery services provider to get their irreplaceable files back. ACE Data Recovery team has a vast experience in recovering data from all types of storage devices and can successfully recover data no matter what the cause of the failure is. ACE will gladly help the new GIGABYTE AORUS NVMe SSDs and RTX 2060 series graphic cards owners with their data recovery needs.