Corsair Announces New Force Series MP510 M.2 PCle NVMe SSD
December, 2018
Corsair Announces New Force Series MP510 M.2 PCle NVMe SSD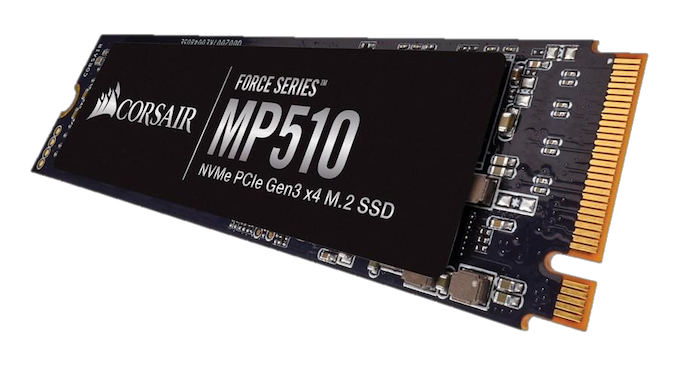 Corsair's Force MP510 is a refresh of the Force MP500 series that brings with it some much-welcomed improvements. It utilizes Toshiba's 64L 3D TLC NAND flash and Phison's latest (and highest performance) SSD controller, the PS5012-E12. Corsair's MP510 delivers up to 3,480/3,000MB/s of sequential read/write throughput and is capable of up to 610,000/570,000 random IOPS (read/write).
Corsair's Force MP510 is a PCIe 3.1 x4, NVMe 1.3-compliant SSD that comes in a standard M.2 2280 form factor, fitting directly into a motherboard or notebook. The drive is available in 240GB, 480GB, 960GB, and 1920GB capacities. The 240GB and 480GB models are single-sided, meaning they only have components on one side of the PCB, while the 960GB and 1920GB models are double-sided, meaning there are components on both sides.
According to the company, the Corsair Force Series MP510 M.2 PCle NVMe SSD is capable of loading everything from large video and image files to games, applications or the operating system faster than ever before. Behind this high performance is the MP510's high-density 3D TLC NAND flash memory and effective thermal management that channels heat away from the PCB, ensuring the good mix of performance, reliability and endurance to keep the drive operating optimally for years. The MP510, along with the entire range of MP500 SSDs, is also compatible with Corsair SSD Toolbox software, enabling advanced drive controls such as secure erase and firmware updates directly from a desktop.
The Corsair Force MP510 SSDs offer more value than its predecessors along with better endurance ratings than other consumer flash-based SSDs but like all storage media, they are vulnerable to physical and logical failures that may lead to data loss. Then the Corsair Force MP510 SSD owners will need to contact a reliable data recovery services provider to get their critical data back.
ACE Data Recovery has been providing premium data recovery services for more than 35 years and the company's engineers have a vast experience in recovering data from all types of storage devices, including failed SSDs.