Corsair launches EX100U compact portable SSD
December, 2022
Corsair launches EX100U compact portable SSD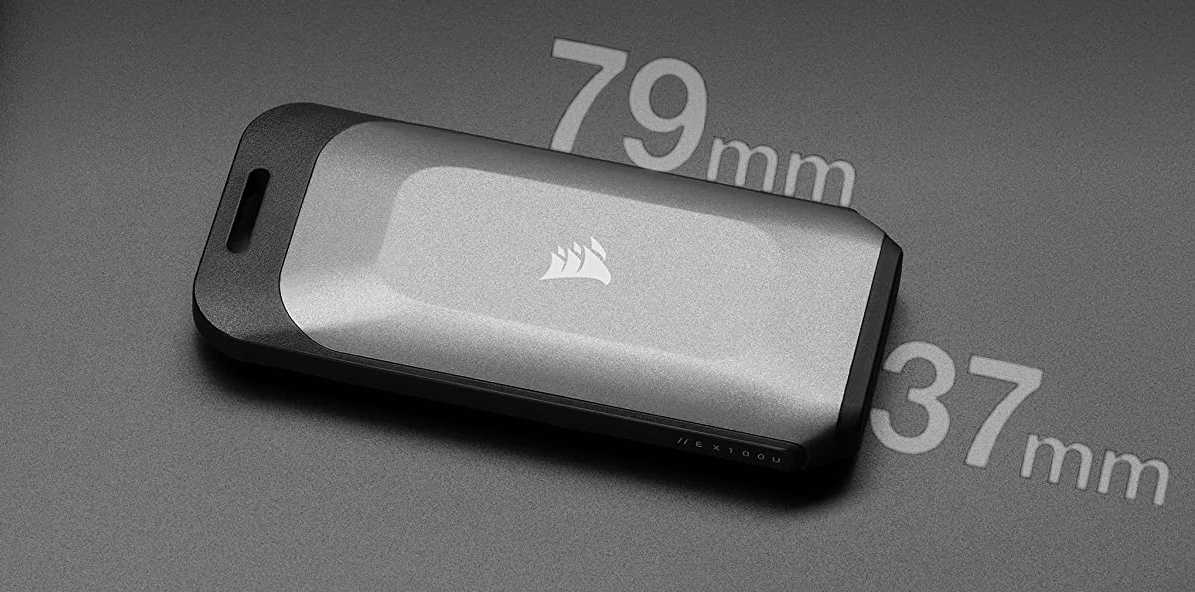 The Corsair EX100U is a portable solid-state drive (SSD) that makes a great place to store all your images, videos and other files, and free up the space on your laptop (so it runs faster). The tiny Corsair EX100U SSD is only slightly bigger than a USB stick and weighs virtually nothing, and yet it can store up to 4TB of user data. The only downside of this Corsair SSD is the potential to lose or misplace it, because the drive is really very small.
The Corsair EX100U SSD comes with two cables: a USB-C to USB-C, and USB-C to USB-A. To use it, you just need to plug in the appropriate lead and connect it to your PC, laptop or gaming console. While Corsair doesn't list an ingress protection (IP) rating for the EX100U, the SSD incorporates a small plastic cover that fits snugly over the USB-C port when it's not in use. That may help in sealing the port from water, sand, or dust.
This SDD is very light, at just 20g/0.7 oz, and tiny, at just 79mm (1.44 inches) long, 37mm (3.12 inches) wide and 11m (0.43 inches) thick. That makes the EX100U SSD super-portable, fitting easily into any pocket, purse, or handbag. Unlike other external hard drives and SSDs, the Corsair EX100U SSD does not have any features to speak of. There are no security protections, and there's no onboard backup software, either.
The Corsair external EX100U SSD features a USB 3.2 Gen2 x2 interface for high bandwidth transfers, and claims read and write speeds up to 1,600MB/s and 1,500MB/s respectively. The SSD has a three-year warranty, which is a common length for external storage devices. It is competitively priced and will transfer user data at a fast speed.
Yet, the Corsair EX100U SSDs may fail just like other storage devices. Then the owners of the Corsair EX100U SSDs will need to contact a professional data recovery services provider to get their irreplaceable data back from SSD. ACE Data Recovery has been providing high-quality data recovery services for more than 35 years and can boast of one of the highest success rate in the industry. ACE Data Recovery engineers are ready to help the Corsair EX100U portable SSD owners with their data recovery needs.