CalDigit 2TB Tuff USB-C hard drive for mobile MacBook Pro users
December, 2017
CalDigit 2TB Tuff USB-C hard drive for mobile MacBook Pro users
There's no reason for MacBook or MacBook Pro users with USB-C to rely on adapters for ruggedized mass storage as the CalDigit 2TB Tuff USB-C hard drives are aimed squarely at mobile professionals seeking to safeguard data against drops or falls. They have native USB-C peripherals.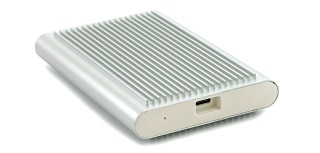 The CalDigit 2TB Tuff USB-C hard drive comes in a plastic storage box with a pair of cables - one USB-C on both ends, and the other USB-A to USB-C. The standard 2.5-inch external hard drive provides performance up to 140MB/s with higher storage capacities. The hard drive is available in 5 different colors (orange, blue, green, grey, and black).
The CalDigit Tuff is an IP57 (Ingress Protection) certified device so it is protected for up to 30 minutes of immersion in water up to 1 meter and it can handle dusty environments. Besides, CalDigit 2TB Tuff USB-C hard drive passed the MIL-STD-810G standard test for ruggedness meaning that an enclosed electronic device can survive a four-foot drop onto a hard surface.
The CalDigit Tuff 2TB USB-C hard drive is durable and makes a good choice if you need a fast external storage device to use in rough, dirty or wet environments. It is the perfect drive for holding backups or even media you want to take with you on your travels.
But, unfortunately, no matter how good they are, the CalDigit 2Tb Tuff USB-C hard drives can sooner or later fall victims to logical or physical failures just like any other electronic devices. Then, their owners will need to contact a reliable data recovery service provider to get their critical files back.
ACE Data Recovery team makes the best choice when you need to recover your data from any type of failed storage media because, being a worldwide leader in providing data recovery services, ACE Data Recovery offers a wide range of data recovery options. All data recovery operations are performed in special labs with clean rooms for HDD recovery and the company's experienced engineers can develop highly-specific solutions to handle the most extreme situations of data loss. Regardless of the data recovery problem you are facing, ACEs are up for the challenge and will give you fast proven results.