Asustor Announces Lockerstor 2 Gen 2 AS6702T NAS
August, 2022
Asustor Announces Lockerstor 2 Gen 2 AS6702T NAS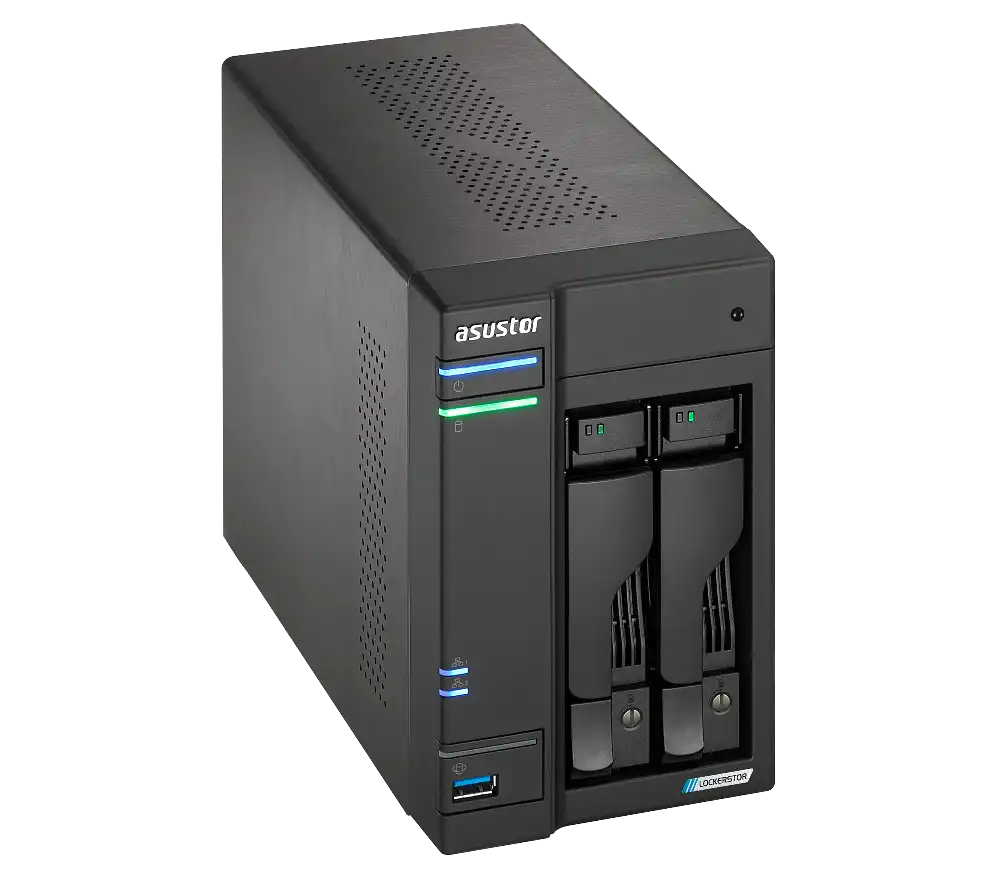 The Lockerstor 2 Gen2 AS6702T is Asustor's two-bay feature-packed NAS that boasts quad-core processing power thanks to a new Intel Celeron processor, two multi-gig Ethernet ports, four M.2 SSD slots, and a huge selection of Asustor and third-party apps.
The AS6702T uses the same gray-and-black enclosure as its predecessor, the AS6602T, measuring 6.4 by 4.2 by 9 inches (HWD). But the Lockerstor 2 Gen2 AS6702T NAS is equipped with the new Jasper Lake cored Celeron N5105 from 2021 that uses about 25% more power but has higher clock speeds and a more powerful GPU. And the chipset that goes with this newer processor is possibly more important than the CPU, allowing for faster memory, more PCIe bandwidth (3.0 over 2.0), and more PCIe lanes.
The bandwidth available to the Asustor AS6702T NAS' system has increased enough to take four M.2 NVMe drives, double that of the previous design, and the USB ports are now 3.2 Gen 2 that are capable of 10Gbps. When you combine those NVMe caching possibilities and the dual 2.5GbE LAN ports, the AS6702T NAS is a powerful system, even if it looks modest outside.
With the GPU in the N5105, it is also appropriately specified for 4K transcoding, and with HDMI 2.0 available, the Lockerstor 2 Gen2 AS6702T NAS can output media directly to a suitable display. Overall, this new platform is roughly 35% faster than the one it replaces, and with features like the USB 3.2 Gen 2 connections and the four M.2 slots, it's easier to exploit that power inside.
As with all Asustor NAS devices, the Lockerstor AS6702T NAS is managed using the Asustor Data Master operating system, a web-based OS that looks and feels like Microsoft Windows. It also comes with an impressive selection of apps. And if the preinstalled apps don't meet your needs, you can access and download more than 245 other apps for office productivity, database management, home entertainment, home automation, security, and many other functions.
The Asustor Lockerstor 2 Gen2 AS6702T is a powerful two-bay network attached storage (NAS) device that's loaded with features, making it a good choice for both home and business users. But NAS suffers from a crash caused by human error, resulting in data loss. Then the owners of the Asustor Lockerstor 2 Gen2 AS6702T NAS will need to contact a professional data recovery services provider to get their critical data back.
ACE Data Recovery has a dedicated team of engineers who are trained to handle all the NAS appliances used in the market today. ACEs are ready to help the Asustor Lockerstor 2 Gen2 AS6702T NAS owners with their data recovery needs.