Asustor Revealed Lockerstor AS6604T NAS
June, 2022
Asustor Revealed Lockerstor AS6604T NAS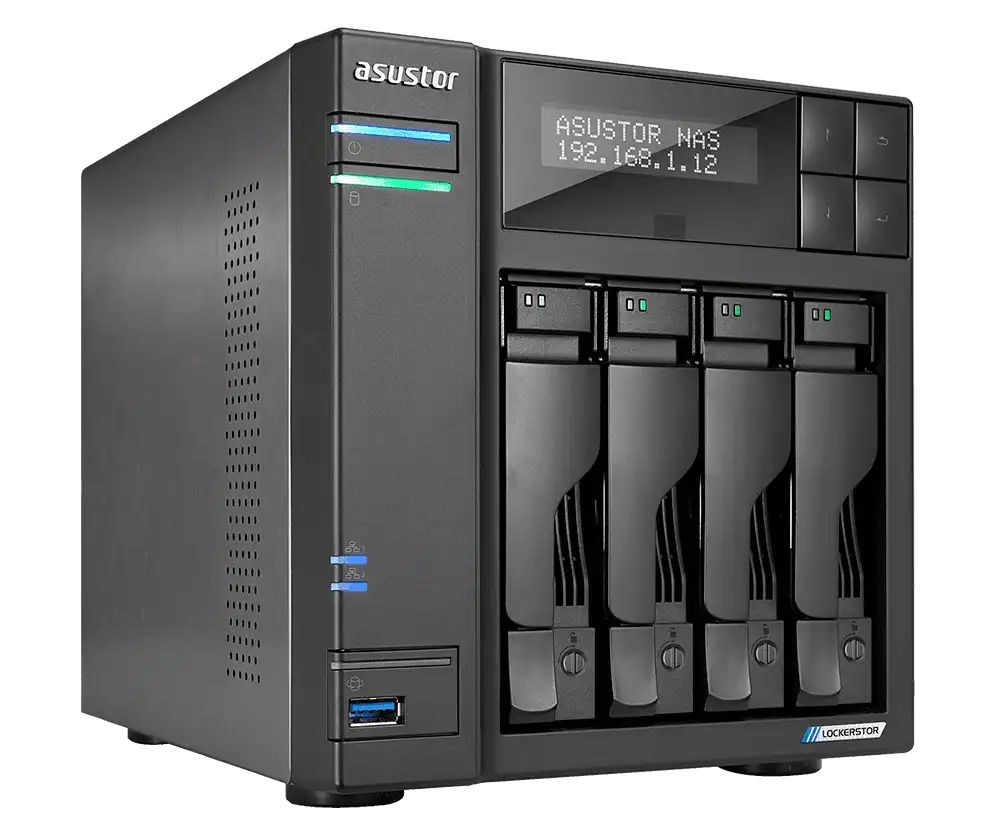 The Taiwanese manufacturer Asustor has a strong portfolio of NAS enclosures tailored for home and office uses, and its products combine powerful hardware with an attractive feature-set. The Asustor Lockerstor AS6604T is the 4-bay NAS that made its debut a few years ago and continues to be one of the best options in the 4-bay category.
The design of the Asustor Lockerstor AS6604T NAS is broadly in line of the conventional design in this category. There are four drive bays at the front. Users can install 3.5-inch or 2.5-inch drives within the enclosure using the bundled screws. There is the two-line screen that's located at the front that serves as a dashboard and gives users an overview of the NAS's status. Round the back, there are dual 2.5 Gigabit Ethernet ports, dual USB 3.0 ports, and there's also an HDMI 2.0a port. The Asustor AS6604T NAS is equipped with a large 120mm fan that cools it effectively.
The AS6604T NAS is powered by Intel's Gemini Lake-based Celeron J4125, featuring four cores at 2.0GHz that go up to 2.7GHz in turbo. The NAS is ideally suited for most home use cases, including media streaming over Plex, backing up photos and other data, and running self-hosted alternatives to mainstream streaming services. The Asustor Lockerstor NAS comes with 4GB of DDR4 RAM installed out of the box, and there's another SO-DIMM slot located at the back that lets users double the memory to 8GB if they need it.
The AS6604T runs Asustor Data Master (ADM) out of the box, and installation takes under ten minutes. ADM includes its own suite of services for backing up data, hosting photos on the NAS, file and storage management, user access, and much more. Asustor also has excellent options for video and audio streaming, hosting your own mail server, productivity suite, VPN server, or web browsing. ADM's Surveillance Center gives users exhaustive control over security cameras, and with the ability to work with 40 cameras, it is ideally suited for small businesses.
The Asustor Lockerstor AS6604T NAS is a solid option for users who want a 4-bay enclosure with 2.5GbE connectivity, but it can also fall victim to NAS failures, making critical users data inaccessible. Then the owners of the Asustor Lockerstor AS6604T NAS will need to contact a professional data recovery services provider to get their irreplaceable data back. ACE Data Recovery team has an extensive experience in recovering data from all types of RAID storage devices and will gladly help the Asustor Lockerstor AS6604T NAS owners with their data recovery needs.