Asustor launched AS6210T NAS for home use and medium-sized businesses
September, 2017
Asustor launched AS6210T NAS for home use and medium-sized businesses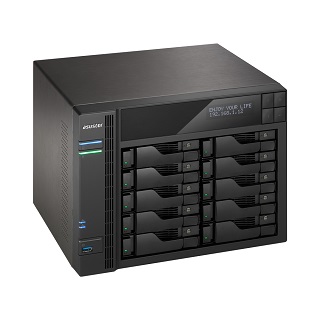 The Asustor launched AS6210T NAS that is a premium model with the ability to host large volumes of data, and it's powerful enough to deliver an amazing user experience across several connected devices at one time. It is a high capacity storage solution designed for enterprise environments.
The AS6210T is equipped with a powerful Intel Celeron quad-core processor, 4GB of memory (expandable up to 8GB) and built-in AES-NI hardware encryption providing high transfer performance and security. User's data is completely protected from the moment it is first stored on the NAS. Under link aggregation, the AS6210T provides read and write speeds of over 398+ MB/s and 355+ MB/s.
The Asustor AS6210T NAS has built-in USB 3.0, USB 2.0, eSATA, and 4 Gigabit Ethernet ports along with dual-channel memory that allows this NAS to connect to different types of external devices and become an all-in-one multifunctional network storage device.
The AS6210T has enterprise-class hardware and software and is compatible with VMware, Citrix, Hyper-V virtual storage environments. iSCSI/IP-SAN and NFS support allow it to seamlessly integrate with existing IT environments, providing an optimal and cost-effective storage solution.
The AS6210T is cost-effective large capacity NAS. Users can install ten 10 TB hard disks to immediately create a high capacity storage space of up to 100 TB. The AS6210T supports online capacity expansion, allowing users to flexibly plan their hard disk purchases. With the high capacity AS6210T, users can save all of their videos and photos in high-quality resolution. RAID 5 and 6 storage volume setting provide comprehensive protection for all digital assets stored on the NAS, minimizing the risk of data loss due to hard disk failure or accidents.
But no matter how good Asustor AS 6210T is, sooner or later any device can fall victim of physical or logical failures that can lead to data loss and the storage devices' owners will require professional data recovery services to get their critical data back. ACE Data Recovery team makes the best choice when it comes to data recovery from any type of storage device. The company's experienced engineers are trained to handle all of the current RAID, SAN, and NAS that are available on the market today and are experts in providing advanced data recovery services. ACEs have been providing data recovery services for more than 35 years and have knowledge and facilities to successfully recover data regardless the cause of the failure or make and model of the drive.