ASUSTOR DRIVESTOR 4 Pro (AS3304T) NAS Appliance
January, 2022
ASUSTOR DRIVESTOR 4 Pro (AS3304T) NAS Appliance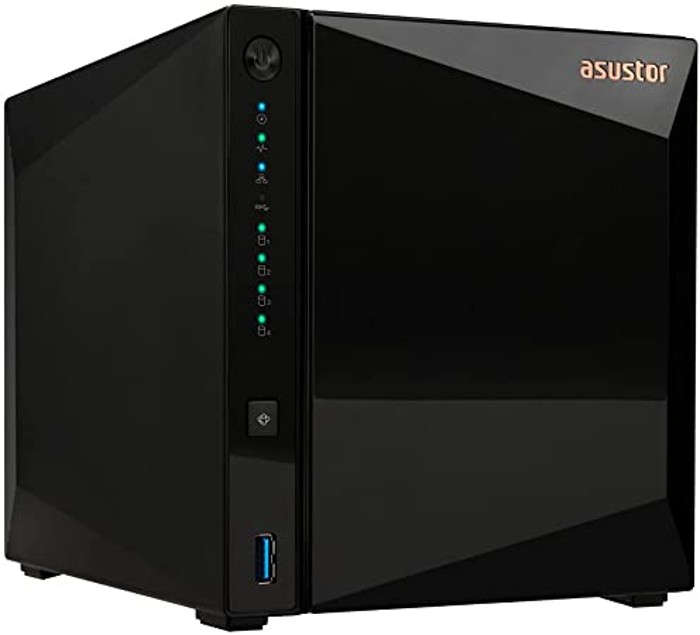 The DRIVESTOR 4 Pro (AS3304T) is the latest affordable four-bay NAS from ASUSTOR. It is powered by a new Realtek RTD1296 Quad-Core 1.4 GHz CPU and includes Multi GigE Ethernet in the form of a 2.5GigE connector. This SOHO NAS is a niche option aimed at distinct audiences, including consumers that stream.
The DRIVESTOR 4 PRO comes fitted with familiar ASUSTOR looks and offers a more known design. The AS3304T NAS, with that 4 for 4 HDD/SSD trays, has been fitted with a more affordable Realtek RTD1296 processor. It's quad-core with frequencies that are in the 1.0 GHz range with a max turbo to 1.4 GHz. Each of these four cores is, in fact, a Quad-core ARM Cortex A53 (64-bit). The DRIVESTOR 4 Pro (AS3304T) NAS also features a Mali T820 MP3 GPU (4 shader cores) that can offer enough processing power for 4KP60 and H.265/VP9.
This new model NAS is aimed more specifically at pro-consumers who require speedy and large capacity storage for videos streamed to multiple devices. It has four 3.5" and compatible 2.5" slots (can hold both HDDs and SSDs). If you have a 2.5 Multi-GigE Ethernet infrastructure, you can reach approximately 300 MB/sec over a single Ethernet jack. The processor is plenty fast enough to keep that file-stream locked and loaded.
The ASUSTOR AS3304T NAS can house four 3.5" hard drives or SSDs. The storage units can be set up in Single disk, JBOD, RAID 0, RAID 1, RAID 5, RAID 6, and RAID 10. As to operating system compatibility, the NAS supports file sharing across Linux, UNIX, Mac, and Windows platforms.
The ASUSTOR DRIVESTOR 4 Pro is a compact NAS that is all about fast connection with its 2.5Gb Ethernet port. Although it doesn't give the fastest speeds on transfers, it makes up for it in its compact design, small footprint, and modest starting price. But still, The ASUSTOR DRIVESTOR 4 Pro AS3304T NAS can fail, so their owners will need to contact a professional data recovery services provider to get their data back. ACE Data recovery can successfully recover data from all types of NAS storage devices, including of all makes and models. ACE Data Recovery engineers are ready to help the owners of The ASUSTOR DRIVESTOR 4 Pro NAS with all their data recovery needs.