Asustor AS1104T - the budget-friendly NAS Appliance
February, 2022
Asustor AS1104T - the budget-friendly NAS Appliance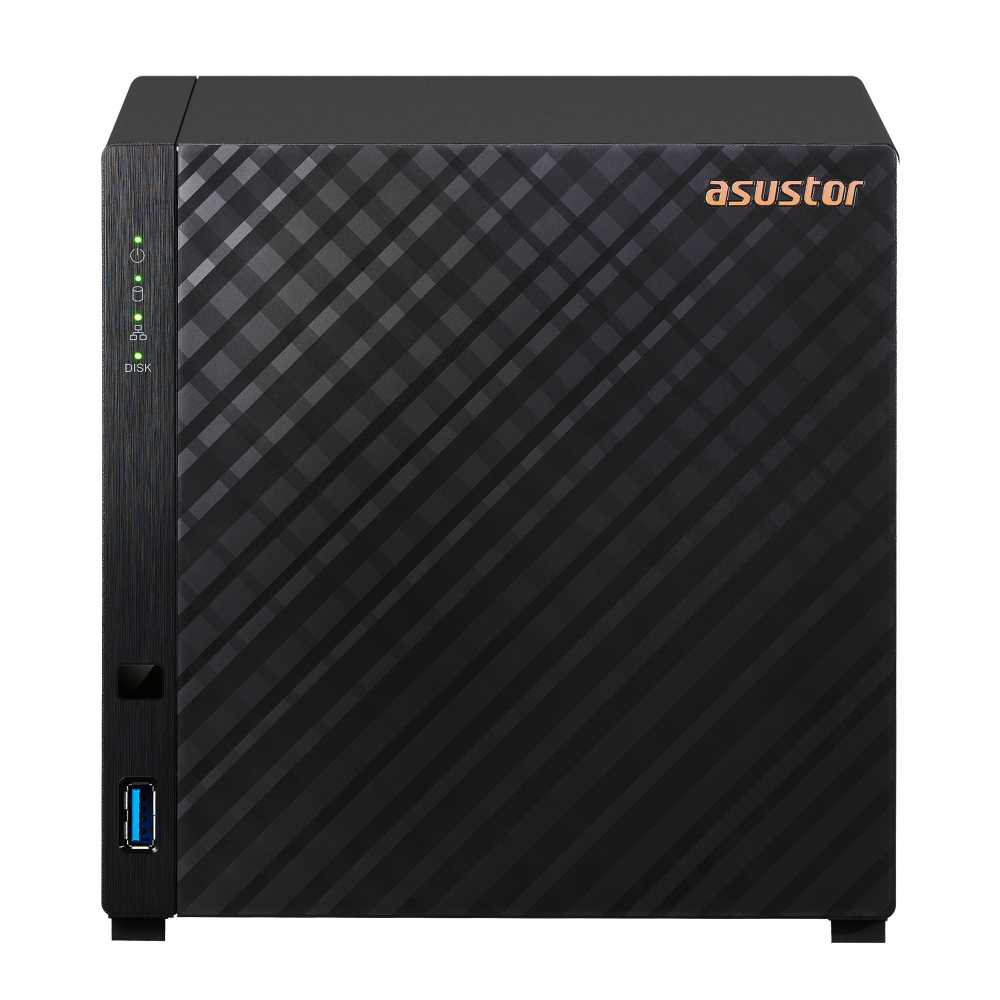 The Asustor AS1104T NAS is the model in the budget-friendly segment. It's a four-bay NAS with a Realtek RTD1296 Quad-Core 1.4 GHz processor and a fixed 1GB of DDR4 RAM, designed for heavier home use. This NAS is actually relatively similar to the more expensive Asutor Drivestore 4 Pro (AS3304T) but comes with less RAM (1GB vs. 2GB), less maximum expansion bay support, and one fewer USB port.
The AS1104T has four 3.5" and 2.5" compatible slots (they can hold both HDDs and SSDs). Fully populated with drives, you can have a capacity of up to 72TB. If you need even more storage space, an expansion bay can be connected to add an additional eight bays. If you have a 2.5 Multi-GigE Ethernet infrastructure, you can reach about 300 MB/sec over a single Ethernet jack; the processor is fast enough to keep that speed. A notable specification is the 2.5Gb LAN, which is rare at this price point.
Asusrtor Data Master (ADM) is the OS that runs on the enclosure and will act much like Windows or Linux on a PC with a full desktop-light experience. There's a support for the btrfs file system, which allows snapshots of the storage volumes for easy backups, and a Docker application, Plex, and server for multimedia applications. Included software offers many first-party media handling applications, file management, backup tools, and system tools. The Asustor AS1104T NAS supports different types of RAID, including Single, JBOD, RAID 0, RAID 1, RAID 5, RAID 6, RAID 10.
The Asustor Drivestor 4 (AS1104T) is a great home-centric NAS for users who need something reliable, user-friendly, and affordable with a decent performance. But nevertheless, it can fall victim to NAS failures that can make critical user data inaccessible. Under such circumstances, the owners of the Asustor AS1104T NAS will need to contact a professional data recovery services provider to get their irreplaceable data back. ACE Data Recovery has been providing high-quality data recovery services for more than 35 years and can boast of one of the highest success rate in the industry. ACE Data Recovery engineers have extensive experience in recovering data from NAS of all makes and models and are ready to help the Asustor AS1104T NAS owners with their data recovery needs.