Apacer launches ASMini pocket-sized SSD
December, 2017
Apacer launches ASMini pocket-sized SSD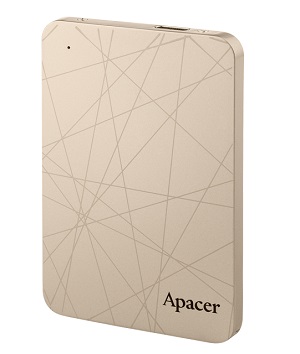 Apacer has introduced a new pocket-sized SDD that features an admirable sustained read/write speed of 450MB/s and 400MB/s and a respectable capacity of 240GB in storage.
ASMini has the size of a business card of with 8.1 cm x 5.4 cm in dimension and was designed to fit inside any pocket. It has unique portability with only 0.6cm in thickness, delivering a huge performance in a small package. The SSD is equipped with USB 3.1 Type-C for ultra-fast speed so its remarkable performance is superior to flash drives and portable hard drives. For example, only 21 seconds are needed to process one thousand 10MB images. With such an awesome speed, ASMini is ideal for functioning as an external system drive or as a specified drive dedicated to audio-video usage. With up to 240GB in memory capacity, ASMini can hold up to 6 hours of 4K video and truly satisfy those who have storage demands.
ASMini is engineered with the same level of protection against shock and impact as SSDs so your data will not only be safely guarded but also can be accessed when on the go without concerns over damage.
Apacer ASMini has inbuilt advanced technologies like NCQ, TRIM, S.M.A.R.T., and ECC 72bit/1KB that can automatically monitor qualities to ensure better operation efficiency for an extended lifespan.
But no matter how good Apacer ASMini SSDs are, someday they may fall victim of physical or logical failures and their owners will need to contact professional data recovery services providers to get critical files back. These days, lots of companies offer qualified data retrieval services to businesses and households but not all of them are capable to handle pocket-sized SSDs and recover intact files safe and sound.
ACE Data Recovery team makes the best choice when it comes to retrieving data from any type of faulty storage devices. For more than 35 years of providing the premium recovery services on the IT market, ACE Data Recovery specialists have developed lots of software and hardware tools that allow successfully recover intact files from failed storage devices considered 'unrecoverable' by other companies. ACE Data Recovery's services are popular among both businesses and households in the United States.