The Addlink A93 SSD: A Surprisingly Competent Budget Option
October, 2023
The Addlink A93 SSD: A Surprisingly Competent Budget Option
Addlink has been a well-known name in the budget SSD market for some time, and their latest offering, the A93, continues to emphasize their commitment to providing value to consumers. While the marketing touts this drive as a budget option, it's important to note that budget doesn't necessarily mean lackluster performance. The A93 proves this point, offering impressive performance and added value with its included heatsink.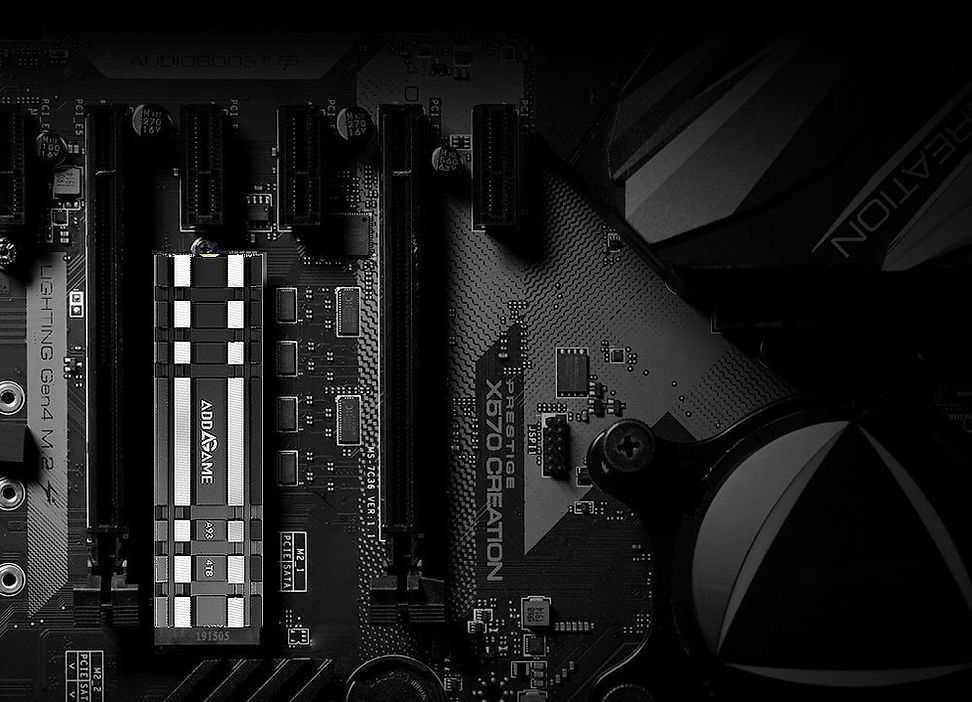 Addlink A93 design and packing
At first glance, the A93's standout feature is its single-sided design, packing a generous 4TB of TLC storage. This is often considered the holy grail for laptop users looking for an upgrade, but it's also an excellent choice for desktops. In contrast to older SSDs that draw more power and generate additional heat, the A93 stands out as an agile leader in the field, rather than a high-end wannabe.
While it might not dethrone top-tier SSDs like the Samsung 990 Pro or the WD Black SN850X in terms of PCIe 4.0 performance, the A93 certainly holds its own. It takes a page from the Lexar NM790's playbook but goes a step further by including a heatsink. This addition helps maintain lower temperatures even during prolonged usage, which is essential for ensuring consistent performance. The A93 doesn't cut corners when it comes to delivering reliable and consistent performance.
Addlink offers the A93 in 1TB, 2TB, and 4TB models, omitting the 512GB capacity option. This decision aligns with the industry trend of larger capacity drives becoming more prevalent. The A93 shines best at 1TB and 2TB configurations, making it an excellent choice if you don't require the full 4TB. For those in need of a high-quality drive for a PS5 upgrade, the A93 is an attractive option. It's worth noting that, while the NM790 may be more affordable at 4TB, the A93 outperforms it at lower capacities, making it a compelling choice for a wide range of users.
A93 Impressive Performance and Specifications
The A93 boasts impressive performance figures, reaching up to 7,400 MB/s for sequential reads and 6,500 MB/s for sequential writes, with up to 1,000K random read and write IOPS. Addlink also offers the peace of mind of a five-year warranty and a 750TB of capacity per TB, which is more than sufficient for typical usage.
Addlink Innovative Heatsink Design
What truly sets the A93 apart from its competitors is the included heatsink. The crosscut design of the heatsink enhances its effectiveness in various cooling environments, making it a valuable addition. Although it may not provide an extensive surface area, it's a welcome feature that helps ensure the drive runs at optimal temperatures. With SSDs running hotter as time passes, a heatsink can provide essential cooling in these increasingly demanding environments.
Under the Hood Addlink A93
Under the hood, the A93 employs the same Maxio MAP1602 controller and 232-Layer YMTC TLC flash as the NM790. This combination results in commendable performance and exceptional power efficiency. The dense TLC storage allows for a single-sided design, which is particularly beneficial for those looking to upgrade laptops or systems with limited space. It's worth noting that the A93 competes well with alternatives based on Phison's E18 and InnoGrit's IG5236 controllers, offering a similar experience for a more budget-friendly price.
The Addlink A93 SSD, while not exceptional in every aspect, stands out in the budget SSD market due to its inclusion of a heatsink. It offers commendable performance, a range of capacity options, and a solid warranty, all at a price point that's friendly to the wallet. If you're in the market for a reliable SSD with the added benefit of improved cooling, the A93 is an excellent choice that deserves your consideration.
ACE Data Recovery Services for Addlink SSD Drives
Addlink SSD drives are known for their reliability and performance, but like any storage device, they can still fail. Whether it's due to a physical accident, logical error, or firmware corruption, data loss can be a devastating experience.
If you've lost data from your Addlink SSD drive, don't panic! ACE Data Recovery Services can help you get your data back. We have a team of experienced and certified data recovery engineers who specialize in recovering data from all types of storage devices, including Addlink SSD drives.
How ACE Data Recovery Services recovers data from Addlink SSD drives
The first step in our data recovery process is to perform a free diagnostic evaluation. This allows us to assess the damage to your SSD drive and determine the best course of action. If we're able to recover your data, we'll provide you with a guaranteed all-inclusive price quote.
Once you've authorized the recovery, our engineers will carefully disassemble your SSD drive and create an image copy of the data. This image copy is then worked on in a Class 100 clean room to prevent further damage to the original data.
We have a variety of proprietary data recovery tools and techniques that we use to recover data from Addlink SSD drives. In some cases, we may need to use specialized equipment, such as a Direct-Drive Access Reader (DDA Reader™).
What types of data can ACE Data Recovery Services recover from Addlink SSD drives?
We can recover all types of data from SSD drives, including personal documents (photos, videos, music, etc.), business data (financial records, customer lists.).
How to get started with ACE Data Recovery Services
To get started with ACE Data Recovery Services, simply give us a call at 1-877-304-7189 or visit our website to request a free diagnostic evaluation. We'll be happy to answer any of your questions and help you get your data back quickly and securely.
Why choose ACE Data Recovery Services?
There are many reasons why you should choose ACE Data Recovery Services to recover your data from your Addlink SSD drive:
We have over 30 years of experience in data recovery.
We have a team of certified and experienced data recovery engineers.
We offer a free diagnostic evaluation and a guaranteed all-inclusive price quote.
We have a No Data - No Charge commitment.
We offer a variety of shipping and pickup options.
Don't wait, get your data back today!
If you've lost data from your Addlink SSD drive, don't wait! Contact ACE Data Recovery Services today to get your data back quickly and securely.