ADATA Announces XPG SX950U SSD
March, 2018
ADATA Announces XPG SX950U SSD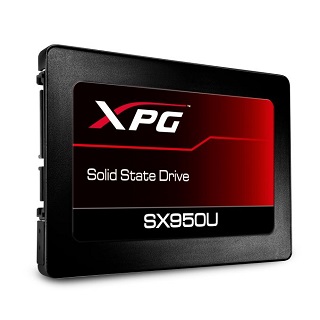 ADATA has announced a replacement for their top SATA SSD, finally moving their SATA lineup entirely to 3D TLC NAND flash memory. The outgoing XPG SX950 (based on Micron 32-layer 3D MLC) is being replaced by the new XPG SX950U with 64-layer 3D TLC. The new XPG SX950U SSD comes to market in four capacities ranging from 120GB to 960GB.
ADATA's official performance specifications don't provide much guidance because only sequential read and write numbers have been released. The sequential read performance reaches as high as 560 MB/s. The 120GB drive achieves up to 300 MB/s sequential write performance but the three larger capacities are capable of delivering up to 520 MB/s. ADATA also didn't announce write endurance ratings, but the SX950U does carry a 5-year warranty. The original SX950 had a 6-year warranty as part of a strategy to make it appear more premium that its performance justified, but 5 years is currently the standard for upper tier SSDs.
The overwhelming industry trend has been toward 3D TLC NAND flash and ADATA has been one of the last major brands using MLC NAND in consumer SSDs.
The company released only the bare minimum of the XPG SX950U SSD specifications. According to ADATA, the controller inside the SX950U comes from Silicon Motion, Inc. (SMI). The SX950U also uses an SLC buffer system for data writes called Intelligent SLC Caching to increase performance.
According to ADATA, the SX950U SSDs are developed specifically for gamers and provide a higher reliability but, unfortunately, like any other SSDs, they are vulnerable to some defects such as abrupt power loss, magnetic fields, and electric charges that may lead to potential data loss.
To get their vital files back, the XPG SX950U owners may need to contact a reliable data recovery services provider. Data recovery from SSDs that use 3D NAND flash memory may be challenging but ACE Data Recovery team is ready for the challenge. ACE Data Recovery has a nationwide reputation for industry-leading results, cutting edge-facilities, and experienced engineers hired all around the world. ACEs use state-of-the-art tools to solve complex issues and can develop custom solutions for unusual cases. ACE Data Recovery engineers are always ready to help you recover your irreplaceable files from any type of the storage media.