ADATA unveils "Ultimate" SU750 SATA SSD
March, 2019
ADATA unveils "Ultimate" SU750 SATA SSD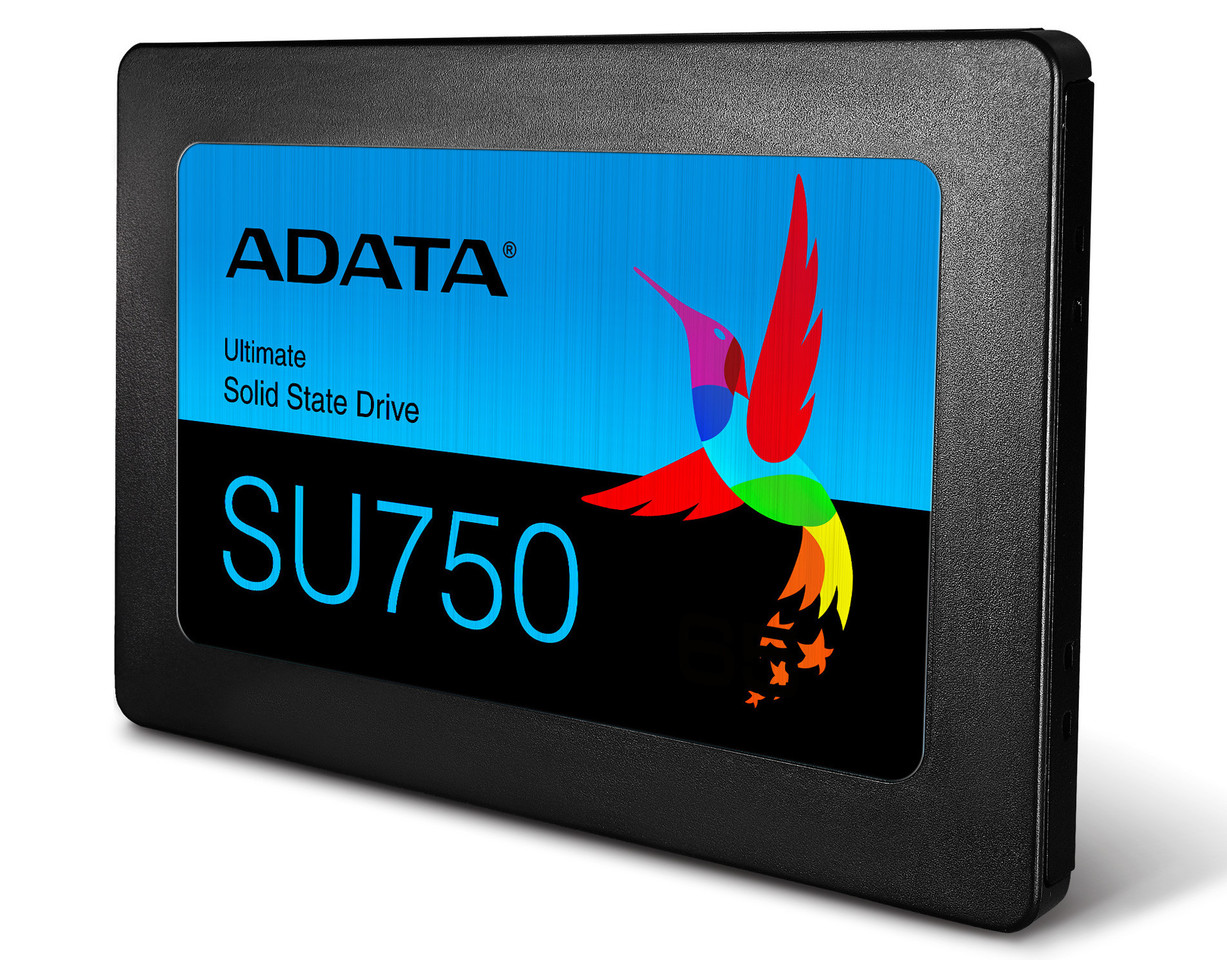 Although NVMe SSDs are much faster than SATA solid state drives and are getting more affordable all the time, many consumers simply don't own a computer with the NVMe-compatible m.2 slot needed to accommodate the speedier drive. So when they decide to replace the existing HDD or even 2.5-inch solid state drive – a SATA variant is an affordable and easy drop-in upgrade.
ADATA releases a new SATA solid state drive SU750 that is designed for upgraders. It is a 2.5-inch SSD that uses 3D TLC NAND Flash with capacities up to 1TB. The SU750 offers a good balance of value, performance, and reliability having higher Total Bytes Written (TBW) and Mean-Time Between Failures (MTBF) of 2 million hours. The ADATA Ultimate SU750 comes in three capacities of 256GB, 512GB, and 1TB. With SLC Caching, the drives can achieve read/write speeds of up to 550/520MB per second to accelerate PC performance.
According to ADATA, the new SSDs are more resistant to shock and vibration (1500G/0.5ms). They have no moving parts and are more resilient than HDDs so they provide better protection of data. Besides, SSDs run silently and consume less power than HDDs.
The company also says that the new SSDs come with support for LDPC (Low-Density Parity-Check) error correcting code technology which allows SU750 SSDs to detect and fix errors to ensure data integrity and thus enjoy extended lifespans. With the purchase of an SU750 SSD, users qualify to download ADATA's SSD Toolbox and Migration Utility free of charge. SSD Toolbox allows users to monitor and manage SU750 SSDs, with drive status, wear level, and lifespan information. The Migration Utility is especially helpful for users making the move from HDD to SSD, as it allows for simple and straightforward backup and migration of data, including the operating system.
As you see, the new ADATA solid-state drives SU750 can be a good option for upgrade but they can also fall victim to logical and physical failures that may result in critical files inaccessibility. Then their owners will need to contact a reliable data recovery services provider like ACE Data Recovery to get their irreplaceable data back. ACE Data Recovery team has an extensive experience in recovering data from all types of storage media and will be glad to help the ADATA SU750 SATA SSD owners with their data recovery needs.