ADATA Launches the Ultimate SU630 3D NAND SSD
December, 2018
ADATA Launches the Ultimate SU630 3D NAND SSD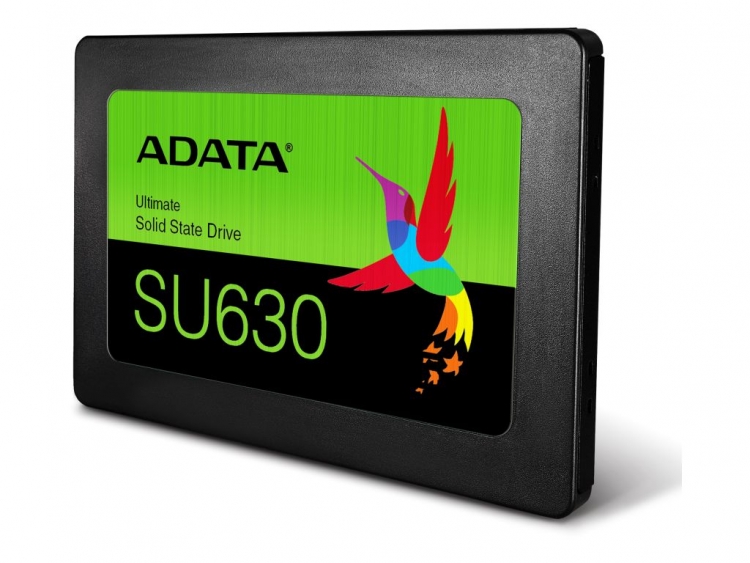 ADATA technology has introduced its new entry-level SSD for client PCs. The company has launched the ADATA Ultimate SU630 2.5" SATA 6Gb/s SSD, which signals its expansion into 3D QLC NAND Flash storage. With next-generation QLC (Quad-Level Cell) 3D NAND Flash, the SU630 delivers good value, performance, and reliability, offering users a viable alternative to HDDs for their next upgrade.
ADATA's Ultimate SU630 drives come in a 2.5-inch form-factor and feature 240 GB, 480 GB, and 960GB configurations. According to the company, the Ultimate SU630 SSDs support sequential read performance up to 520 MB / s as well as sequential write performance up to 450MB/s when pseudo-SLC caching is enabled, based on numbers obtained using the ATTO benchmark. The 240GB version is not slower than higher-capacity models. As for random performance, the Ultimate SU630 is capable of up to 40,000 read and up to 65,000 write IOPS in case of the 480GB and 960GB drives.
The new ADATA SSD also features characteristics that work to keep data safe, including a shock rating of 1500G/0.5ms and resilience to temperature changes (0°C ~ 70°C), while also being more energy-efficient and quieter than HDDs. With support for LDPC (Low-Density Parity-Check) ECC (error correcting code) technology, the SU630 can detect and correct errors to ensure data integrity and deliver an extended lifespan.
In addition, users who purchase the SU630 can download the SSD Toolbox and the ADATA Migration Utility free of charge. SSD Toolbox allows users to monitor and manage the SU630, with drive status, wear level, and lifespan information. The Migration Utility is especially helpful for users making the switch from HDD to SSD, as it ensures simple and straightforward backup and migration of data, including the operating system.
The new ADATA SU630 SSDs have no mechanical parts so they are more resilient than HDDs. But, like all storage media, they are also vulnerable to physical and logical failures that can make their files inaccessible so their owners will need to contact professional data recovery service providers to get their critical data back. ACE Data Recovery has a vast experience in recovering data from all types of storage devices and can boast of the highest success rate in the industry. ACEs will be happy to help the ADATA Ultimate SU630 SDD owners with their data recovery needs.