Adata Swordfish M.2 NVMe SSD
September, 2020
Adata Swordfish M.2 NVMe SSD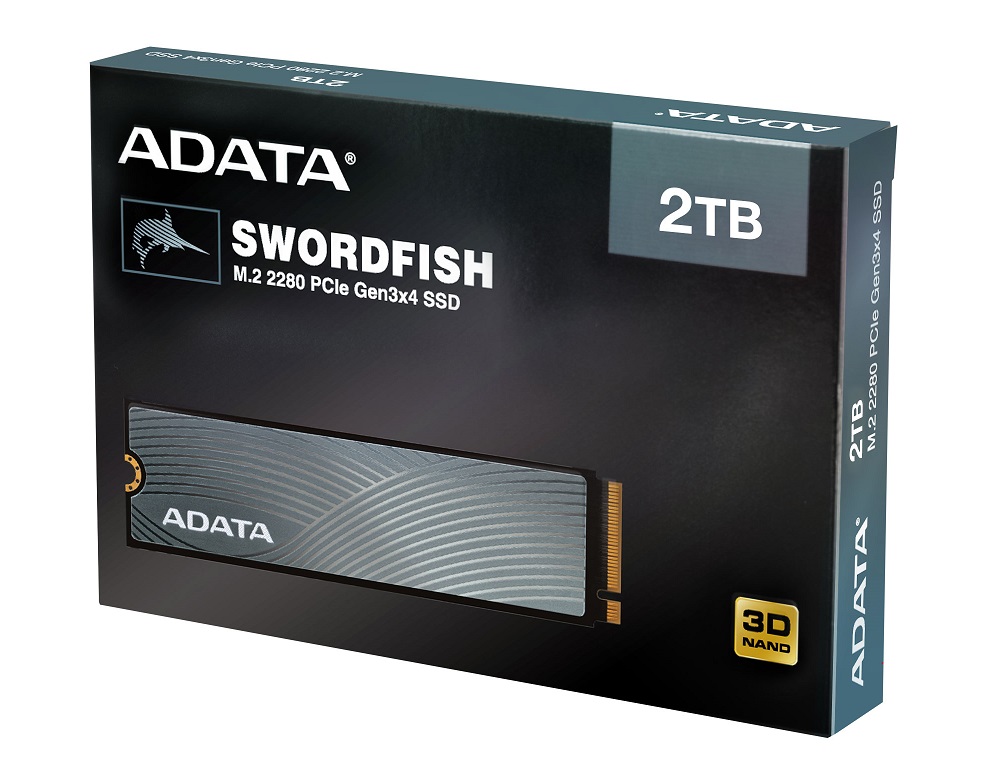 Adata's Swordfish is an entry-level NVMe SSD built for creative professionals and gamers looking for faster-than-SATA performance, without spending a whole lot. The Swordfish SSD is available in capacities of 250GB up to 2TB and is priced very competitively. This M.2 2280 form factor SSD drive comes with an elegantly etched aluminum heatsink which helps cool the components underneath. The 1TB and smaller capacities come in a single-sided form factor, but the 2TB comes in a double-sided form factor, so it's a bit thicker.
The ADATA Swordfish is powered by a Realtek RTS5763DL four-channel controller, with 96-layer BiSC4 TLC NAND Flash made by the joint venture between KIOXIA and SanDisk. This is an entry-level NVMe controller, but it still offers great performance and the PCIe Gen 3.0 x4 interface. To reduce manufacturing cost, ADATA isn't including a DRAM cache chip on the Swordfish. So Swordfish SSDs will use the Host Memory Buffer (HMB) feature in Windows 10 to procure some of your system memory for the SSDs translation tables.
With a PCIe 3.0 x4 interface, Adata rates the Swordfish SSD to deliver sequential performance up to 1.8/1.4 GBps read/write for all models over 500GB. Random 4K performance is expected to reach up to 180,000 IOPS in both read and writes.
The Adata Swordfish NVMe SSD is equipped with LDPC (Low-Density Parity-Check) error correcting code technology support, which allows the drive to detect and fix errors to help promote data integrity and therefore an extended lifespan. The Swordfish supports Trim, S.M.A.R.T. data reporting, and offers support for lower power active and idle modes. It also comes with support for AES 256-bit encryption to help safeguard data via password-protection.
Adata provides buyers with free downloads of ADATA SSD Toolbox and Migration Utility. SSD Toolbox allows users to monitor and manage the drive status, wear level, and lifespan information. The Migration Utility is especially helpful for users making the move from HDD to SSD.
Adata Swordfish M.2 NVMe SSDs come a 5-year warranty and can be a good option for users who are looking for inexpensive SSDs. But unfortunately they vulnerable to logical and physical SSD failures just like any other storage media. If that happens, owners of Adata Swordfish SSDs will need to contact a professional data recovery services provider to get their irreplaceable files back. ACE Data Recovery has extensive experience in recovering data from SSDs of all makes and models and will gladly help Adata Swordfish SSD owners with their data recovery needs.