ADATA Technology Unveils the LEGEND 970 SSD: Redefining Storage Innovation
July, 2023
ADATA Technology Unveils the LEGEND 970 SSD: Redefining Storage Innovation
ADATA Technology Co., Ltd., has introduced the LEGEND 970 SSD. With impressive performance capabilities, this state-of-the-art PCIe Gen 5 SSD is poised to revolutionize the consumer market. The LEGEND 970 SSD achieves maximum sequential read/write speeds of 10,000/10,000 MB per second, setting a new benchmark in storage technology. What sets it apart is its double-layer aluminium alloy heatsink, featuring a built-in micro-fan and surface crystallization, creating a patented active air-cooling system. This unique feature enhances thermal conductivity and reduces temperatures by an impressive 10% compared to fanless heatsinks, ensuring consistent performance even during prolonged high-speed operation. Backed by exceptional research and development, innovative design, and superior cooling mechanism, the LEGEND 970 is set to become the most influential PCIe Gen 5 storage solution in the market.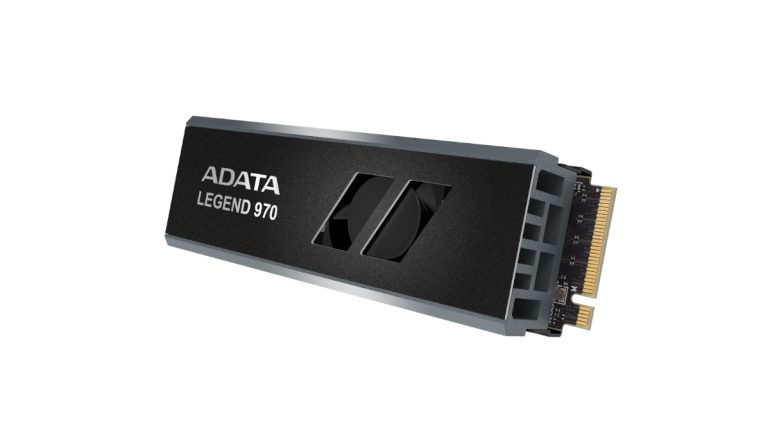 LEGEND 970 Revolutionary Heat Dissipation Solution
ADATA's LEGEND 970 introduces a groundbreaking heat dissipation solution to address the need for efficient cooling during high-speed PCIe 5.0 data transmission. Recognizing the impact of elevated temperatures on reading, writing, and system performance, the LEGEND 970 incorporates a double-layer extruded aluminium heatsink design with dense air ducts that effectively divert hot and cold air. By utilizing the built-in micro fan, the mixture of hot and cold air is circulated, rapidly expelling exhaust heat from both ends of the extruded aluminium fins. Additionally, the LEGEND 970 incorporates "surface crystallization" on the aluminium heatsink surface, increasing the overall air contact area and maximizing the heat dissipation efficiency of its air cooling system. This innovative "active heat dissipation" design reduces temperatures by 10% compared to fanless heatsinks, ensuring exceptional stability even under demanding high-temperature conditions.
ADATA LEGEND 970 SSD Unparalleled Performance
The LEGEND 970 operates on a PCIe Gen 5 x4 transmission interface, complying with the NVMe 2.0 standard. It delivers exceptional read/write performance of 10,000/10,000 MB per second, double the speed of standard PCIe Gen 4 SSDs, and six times faster than Gen 3 SSDs. Furthermore, it maintains backward compatibility with PCIe 4.0 and 3.0 platforms. Equipped with an SLC cache algorithm and DRAM Cache Buffer, the LEGEND 970 offers unique advantages in system loading and data caching. With random read/write speeds of 1,400K/1,400K IOPS, it significantly enhances multitasking efficiency. The LEGEND 970 seamlessly integrates with the latest Intel and AMD platforms, while its patented heatsink design ensures reliable, high-performance operation, regardless of the complexity of tasks, whether it be 3D animation, game development, or virtual visualization.
Premium Components for Enhanced Durability
The LEGEND 970 incorporates carefully selected 232-layer 3D flash memory, enabling large capacities of up to 2000 GB. Advanced data protection and correction technologies are utilized to greatly enhance Total Bytes Written (TBW) and overall durability, catering to diverse high-load requirements. With the inclusion of a Low Density Parity Check Code (LDPC) error correction mechanism and AES 256-bit high-level encryption technology, the LEGEND 970 guarantees secure and accurate data transmission, ensuring the safety of valuable intellectual property. Users can also download the exclusive SSD Toolbox, providing real-time monitoring of the drive's status. ADATA offers a 5-year global limited warrantyfor the LEGEND 970, underscoring its commitment to exceptional quality and customer satisfaction.
ADATA's LEGEND 970 SSD represents a significant advancement in storage technology. With its unparalleled performance, innovative cooling mechanism, and top-notch components, it sets the standard for PCIe Gen 5 storage solutions. The LEGEND 970 delivers blistering read/write speeds, ensuring lightning-fast data transfer and processing. Its double-layer aluminium alloy heatsink with an integrated micro-fan and surface crystallization enables efficient heat dissipation, guaranteeing optimal performance even under demanding conditions. With its compatibility across multiple platforms and industry-leading features such as the SLC cache algorithm, DRAM Cache Buffer, and robust data protection mechanisms, the LEGEND 970 is the go-to choice for professionals in fields such as 3D animation, game development, and virtual visualization.
LEGEND 970 SSD storage capacities and durability
ADATA's commitment to excellence is evident in the LEGEND 970's 232-layer 3D flash memory, offering generous storage capacities and durability to meet the demands of data-intensive applications. The integration of LDPC error correction and AES 256-bit encryption ensures data integrity and security, safeguarding valuable information. The inclusion of the SSD Toolbox further enhances the user experience by providing real-time monitoring of the drive's status. Backed by a 5-year global limited warranty, ADATA stands firmly behind the LEGEND 970, instilling confidence in its reliability and longevity.
With the introduction of the LEGEND 970 SSD, ADATA Technology marks a significant milestone in storage innovation. Its groundbreaking features and impressive performance are set to redefine the consumer market. ADATA's dedication to research and development, coupled with its superior cooling mechanism, positions the LEGEND 970 as the benchmark for the next generation of storage products. Embracing the latest PCIe Gen 5 technology, the LEGEND 970 ensures unrivaled speed, efficiency, and stability, cementing its position as the most influential PCIe Gen 5 storage solution available.
ADATA Legend SSD Data Recovery Services - Ensuring the Safety of Your Precious Data
ACE Data Recovery understands the importance of your data and the potential devastation that can occur in the event of data loss. Despite the superior performance and reliability of the LEGEND SSD, unforeseen circumstances can still lead to data loss or corruption. That's why ACE Data Group offers professional data recovery services specifically tailored for LEGEND SSD users.
With ACE Data Recovery Services, you can trust that your valuable data is in capable hands. Our team of skilled technicians possesses the expertise and experience to handle a wide range of data loss scenarios, including accidental deletion, formatting errors, file corruption, and physical damage to the SSD. We employ cutting-edge techniques and state-of-the-art equipment to perform efficient and reliable hard drive data recovery.
Thorough and Meticulous Recovery Process
When you entrust your LEGEND SSD to ACE Data Group for data recovery, you can expect a thorough and meticulous process. Our technicians work diligently to recover your lost data while ensuring the utmost care is taken to maintain data integrity and privacy. We prioritize the use of non-destructive recovery methods to minimize any potential risks or further data loss.
Quick Turnaround Time and Transparent Communication
At ACE Data Recovery, we understand the urgency of data recovery. That's why we strive to provide a quick turnaround time, allowing you to regain access to your valuable data as soon as possible. Our commitment to customer satisfaction extends to transparent communication throughout the recovery process, keeping you informed every step of the way.
Protect your data and ensure peace of mind with ACE Data Group's professional data recovery services for LEGEND SSD. Trust the experts to handle your data loss situations efficiently and effectively, and rest assured that your important files, documents, and memories are in safe hands.