ADATA Shows Off HD830 Rugged External HDD
November, 2018
ADATA Shows Off HD830 Rugged External HDD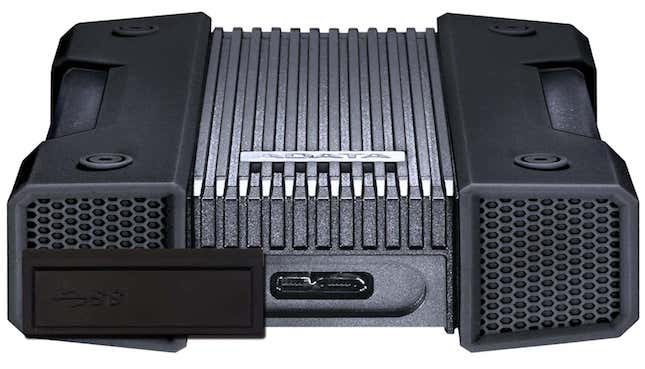 ADATA has announced the launch of the HD830, its most rugged external hard disk drive (HDD) to date. It features an ultra-sturdy aluminum exterior, triple-layer construction, and IP68 rating for the ultimate protection of data. What's more, the HD830 is MIL-STD-810G 516.6 compliant and can withstand up to 3000kg of downward pressure. The new ADATA HDD is also equipped with shock sensors that prevent errors and bad sectors due to accidental impact and shaking.
The HD830 external HDD packs a tough aluminum exterior to shield it from drops and blunt force, as well as downward pressure up to 3000KG which is about the weight of 50 average people. The new drive also meets the U.S. Military's MIL-STD-810G 516.6 standard and can survive falls from up to 1.22 meters. A three-layer construction ensures complete protection outside and inside, including a tough outer silicone casing that comes in red or blue, shock-absorbing buffer, and cushioned mounting that firmly holds the drive in place.
The HD830 has shock sensors that stop drive activity when an impact is detected, for example, when the drive is accidentally dropped. When the sensors are activated, the LED indicator blinks in red. After the threat has passed, the LED indicator will light up in blue and resume normal operation.
The ADATA HD830 external HDDs come in three capacities – 2 TB, 4 TB, and 5 TB. They will be a good option for users who need reliable media for storing 4K Ultra HD videos and other high-resolution content. But like all storage devices, the HD830 HDDs may fall victim to logical and physical failures or be damaged due to overheating that may result in critical data inaccessibility. Then, the owners of the ADATA HD830 external HDDs will need to rely on a professional data recovery service provider to get their valuable photos, videos, images, and documents back.
ACE Data Recovery provides hard drive recovery on a full range of hard disk drives including internal and external hard drives of all sizes, makes and models. All data recovery procedures are performed in the company's Class 100 Clean Rooms. ACE Data Recovery engineers use highly sophisticated techniques and proprietary equipment and software. They can retrieve any data even from storage devices that other data recovery companies consider "unrecoverable". ACEs will gladly help ADATA HD830 HDD owners with their data recovery needs.