Adata Launches Its New HD770G External HDD
August, 2019
Adata Launches Its New HD770G External HDD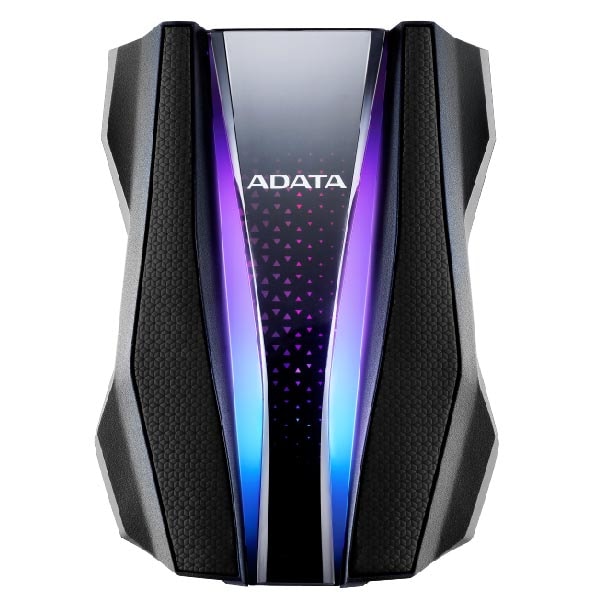 Adata Technology, a well-known manufacturer of high performance DRAM modules, NAND Flash products and mobile accessories, has made another point in product development and introduced the Adata HD770G, the world's first external hard drive with RGB Lighting in the market. With the visually stunning HD770G, users can not only save games and data – it is also waterproof, dustproof and shock resistant thanks to its robust 3-layer construction. The new hard drive comes in 2 capacities of 1TB and 2TB.
The HD770G sports a design like no other external HDD thanks to its distinct chamfered edges and two light-beam-shaped RGB strips that'll show off users' personal flair. What's more, in between the two light strips, there is a centerpiece that features a perforated pattern that comes to life as the RGB lighting pulsates. With plenty of storage capacity, users can carry all their games or supplement the limited storage on their PS4 or Xbox console. According to the company, the HD770G is great for console gaming and for PC gaming as well.
Adata says the HD770G offers good protection against dust and water that goes beyond the IP68 standard. For example, the HDD is waterproof to the point where it can withstand 120 minutes submerged in 2 meters of water. With a robust triple-layer construction that consists of a shock-absorbing silicone casing, sturdy buffer, and a cushioned mounting for the hard drive, the HD770G can withstand knocks and drops. To ensure data security, the hard drive supports AES 256-bit encryption.
The new Adata HD770G external HDD will be a good option for gamers to store their data but, unfortunately, just like all hard drives, it can fall victim to logical and physical failures that can result in critical files inaccessibility. To get their irreplaceable data back, the proud owners of the new HD770G HDD will need to contact a professional data recovery services provider. ACE Data Recovery team has been providing premium data recovery services for more than 35 years and has an extensive experience in recovering data from failed or broken hard drives of all makes and models. ACEs will gladly help the owners of the Adata HD770G external HDD with their data recovery needs.