Adata updated external 2.5-inch HD710 Pro and HD650 HDDs
July, 2017
Adata updated external 2.5-inch HD710 Pro and HD650 HDDs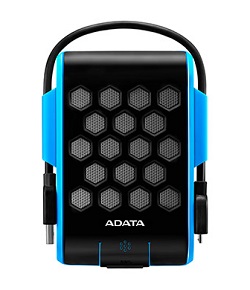 Adata Technology, a well-known manufacturer of high-performance DRAM modules, NAND Flash products, and mobile accessories, launched the HD710 Pro durable external HDD alongside an addition to the HD650 range. One big change with these new offerings from Adata is a 4TB capacity model for each line.
The HD710 Pro improves on its HD710 predecessor by exceeding IP68 dust and waterproofing plus military-grade shock resistance that allows the drive to withstand harsher environments and enhances the safeguarding of stored data against accidents and other damage. The HD710 Pro exceeds IEC IP68 requirements, being dust-tight and able to withstand up to 60-minute submersion in two meters of water. It also meets and passes MIL-STD 810G 516.6 requirements surviving shocks and impacts associated with drops from up to 1.5 meters.
Adata uses a custom triple-layered protective build and a G-Shock sensor technology that stops the drive activity and restarts it when shocks or vibrations are detected to prevent data corruption. Red, yellow, and blue variants of the drive are available in 1/2TB, while the black version goes up to 3/4TB.
The HD650 also uses tough triple-layered construction to protect stored data and features the same G-Shock sensor technology but it is not dust or water proof. The refreshed HD650 ships in a light blue over the black color scheme. The drive offers consumers up to 4TB capacity, which was traditionally only possible on bulky external drives that required a dedicated power supply, and so the updated HD650 is a step in offering users efficiency, good value, and increased storage expansion through compatible USB 3.1.
The HD710 Pro and HD650 HDDs give consumers more choice and offer new opportunities for computers users to store more data. But, unfortunately, no matter how good they are, all storage media will eventually fail and lead to inaccessibility of critical files. To get irreplaceable files back, the HD710 Pro and HD650 HDDs owners will have to contact a professional data recovery service provider.
ACE Data Recovery team makes the best choice when you need to recover data from failed HDDs because it employs a wide range of state-of-the-art technology solutions and has laboratories equipped with Class 100 clean rooms to ensure your data safety. In fact, ACEs can recover any data from any failed storage device in a fast, reliable, and cost-effective manner.