ADATA Releases the SE880 USB 3.2 Gen 2x2 Portable SSD
June, 2022
ADATA Releases the SE880 USB 3.2 Gen 2x2 Portable SSD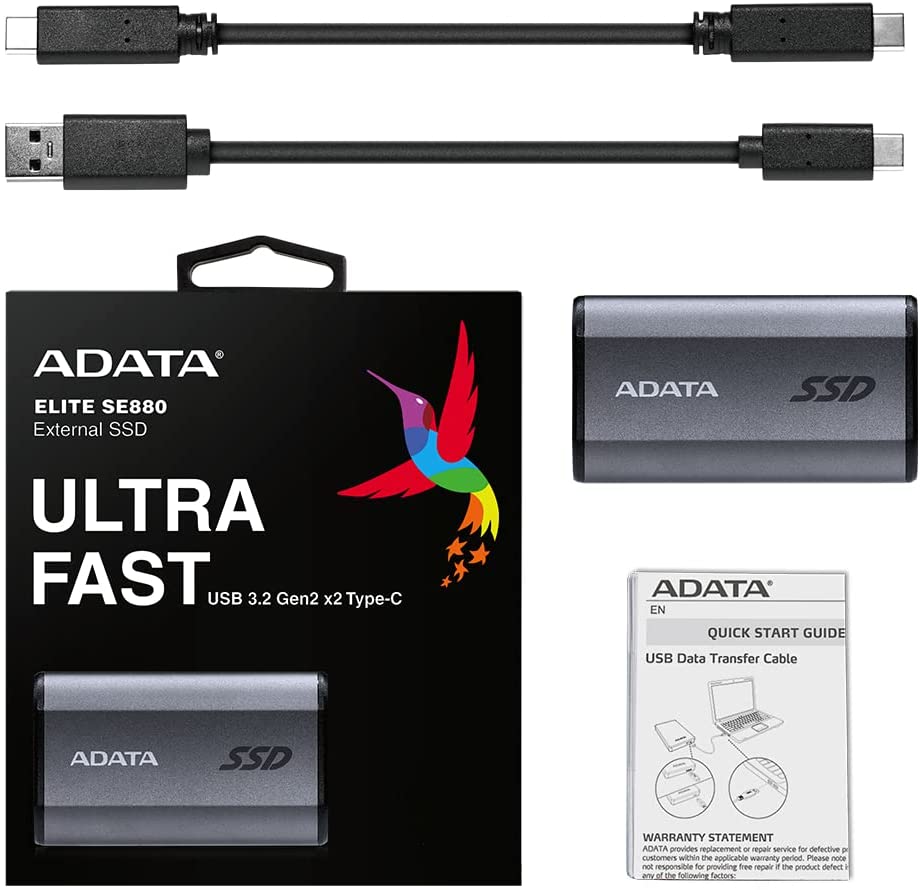 Built with speed and storage in mind, Adata's Elite SE880 is more the size of a USB thumb drive than the larger rectangle that describes most external SSDs. It's also very fast at everyday tasks. The SE880 SSD measures a mere 2.55 inches long, 1.38-inches wide and just 0.48-inches thick. It weighs only 1.1 ounces and virtually disappears in your pocket. Available in 500GB and 1TB capacities, the Adata Elite SE880 SSD comes with both a Type-C to Type-C and a Type-A to Type-C cable to cover both USB-connection scenarios.
The SE880 solid-state drive uses TLC NAND memory and has a SuperSpeed 20Gbps interface, aka a USB 3.2 Gen 2×2 drive. That means it's capable of around 2GBps transfers when attached to the appropriate 20Gbps port. 3.2 2×2 ports aren't common, but USB4/Thunderbolt also supports 20Gbps if you happen to have one those. This should be good news to Apple silicon users (who have T4/USB4 ports) because they can get Thunderbolt-like performance at a significantly lower price point. The Elite SE880m SSD is backed by a five-year warranty or 300 terabytes written (TBW) per 500GB of capacity. Although that's not an amazing TBW rating, few users will ever even write that much data.
The SE880 SSD's performance is great for everyday work and the average user. But it's not the best choice if you routinely write large amounts of data to your external storage. Then you should look for something with better sustained write performance.
The Adata Elite SE880 is a super small, fast, and affordable portable SSD for everyday light use, but unfortunately, these drives are vulnerable to logical and physical failures, just like all SSD drives. Failures result in critical user data inaccessibility, so the owners of the Adata Elite SE880 SSDs will need to contact a professional data recovery services provider to get their irreplaceable documents and photos back. ACE Data Recovery engineers can successfully recover data from all types of storage media, including SSDs of all makes and models. ACEs are ready to help the Adata Portable Elite SE880 SSD owners with their data recovery needs.