The new ACEPC PicoBox is a mini PC that can offer you a fantastic home entertainment experience
November, 2023
The new ACEPC PicoBox is a mini PC that can offer you a fantastic home entertainment experience
If you are looking for a compact and powerful device that can turn your TV into a smart home entertainment center, you might want to check out the ACEPC PicoBox. This mini PC is designed to offer you a smooth and immersive experience with your favorite movies, games, music, and more. In this blog post, we will review the features and benefits of the ACEPC PicoBox and show you why it is a great choice for your home entertainment needs.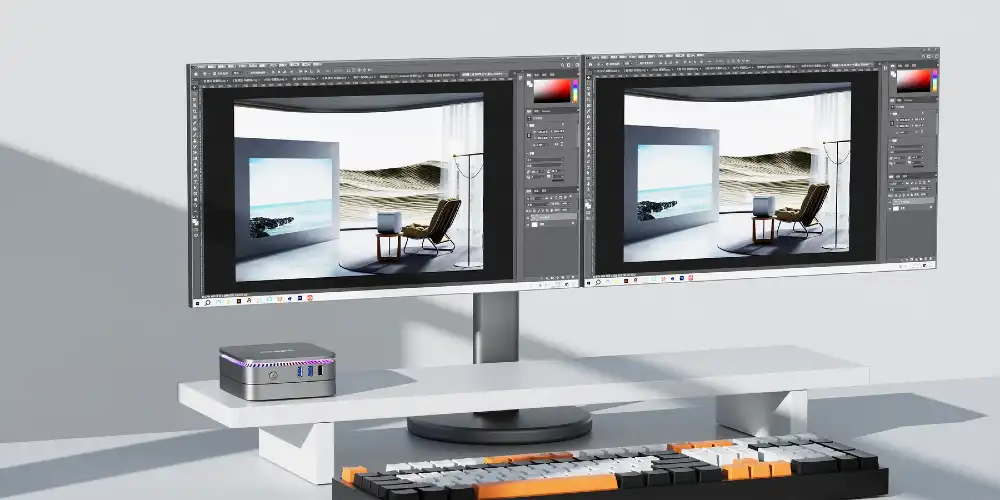 What is the ACEPC PicoBox?
The ACEPC PicoBox is a mini PC that runs on Windows 11 Pro operating system and uses Intel's 11th generation Celeron processor with a frequency range of 2.00-2.90GHz and 6MB Cache. It has 8GB of LPDDR4X memory and 256GB of M.2 SSD storage, which can be expanded up to 2TB. It supports dual screen display with two HDMI ports and has four USB 3.0 ports, one USB Type-C port, one RJ45 port, one audio jack, and one micro SD card slot. It also has Wi-Fi and Bluetooth connectivity and comes with a remote control.
What are the storage extension options for PicoBox?
The ACEPC PicoBox has a built-in M.2 SSD slot that can accommodate up to 2TB of storage capacity. You can easily upgrade your storage by replacing the original SSD with a larger one or adding an additional one. You can also use an external hard drive or a USB flash drive to expand your storage space. The ACEPC PicoBox supports both NTFS and FAT32 file systems, so you can use any compatible device to store your files.
What external hard drive models are most suitable to use with PicoBox?
If you want to use an external hard drive with your ACEPC PicoBox, you should look for one that has a fast transfer speed, a large capacity, and a reliable performance. Some of the best external hard drive models that meet these criteria are:
Samsung T7 Shield: This is a portable SSD that offers up to 1TB of storage space and a blazing-fast transfer speed of up to 1,050MB/s. It has a USB-C interface that is compatible with the ACEPC PicoBox and comes with a shock-resistant metal case that protects it from drops and bumps.
LaCie Rugged Mini: This is a portable HDD that offers up to 5TB of storage space and a decent transfer speed of up to 130MB/s. It has a USB 3.0 interface that works with the ACEPC PicoBox and comes with a rugged design that can withstand water, dust, and shock.
WD My Book Duo: This is a desktop HDD that offers up to 20TB of storage space and a fast transfer speed of up to 360MB/s. It has two USB 3.0 interfaces that can connect to the ACEPC PicoBox and other devices and comes with RAID-0/1 support for enhanced performance or data protection.
What are the advantages of the ACEPC PicoBox?
The ACEPC PicoBox has several advantages that make it a great device for home entertainment. Here are some of them:
It is small and portable: The ACEPC PicoBox measures 5.04 x 5.04 x 2.03 inches and weighs only 1.32 pounds. You can easily place it anywhere in your living room or bedroom without taking up much space. You can also take it with you for flexible working or traveling.
It is fast and powerful: The ACEPC PicoBox has a high-performance processor that can handle multiple tasks smoothly and efficiently. You can enjoy fast booting, loading, and streaming with no lag or stuttering. You can also run various applications and programs without any hassle.
It is versatile and compatible: The ACEPC PicoBox can support various formats and codecs for video, audio, and image files. You can play 4K videos, listen to high-quality music, or view stunning photos on your TV or monitor. You can also connect it to various devices and peripherals such as keyboards, mice, speakers, webcams, printers, scanners, etc.
It is user-friendly and customizable: The ACEPC PicoBox runs on Windows 11 Pro operating system, which is easy to use and offers many features and functions. You can access the Microsoft Store, Cortana, Edge browser, Office suite, Skype, OneDrive, etc. You can also customize your settings, preferences, wallpapers, themes, etc.
The ACEPC PicoBox is a mini PC that can offer you a fantastic home entertainment experience with its compact size, powerful performance, versatile compatibility, and user-friendly interface. You can watch movies, play games, listen to music, browse the web, work on documents, and more with this device.
ACE Data Recovery for home entertainment centers
If you have a home entertainment center, you probably store a lot of your favorite movies, music, and photos on your hard drive or other storage devices. But what if one day, your hard drive fails and you lose access to all your precious data? How can you recover it without spending a fortune or risking further damage?
That's where ACE Data Recovery comes in. ACE Data Recovery is a leading company that offers professional, fast, and economical data recovery services for any type of storage media, including hard drives, SSDs, RAID arrays, NAS, SAN, flash drives, memory cards, and tapes. Whether your storage device has suffered from physical damage, logical corruption, human error, or natural disaster, ACE Data Recovery can help you get your data back in no time.
ACE Data Recovery has over 30 years of experience in the data recovery industry and has earned the reputation of being the most trusted and reliable data recovery company. We have a team of highly skilled and experienced engineers who can handle any data recovery challenge, no matter how complex or difficult. We have state-of-the-art facilities with Class 100 clean rooms that are electronically monitored for air quality and particulate contamination 24 hours a day. We also use proprietary tools and techniques that prevent further damage to the original media and ensure the highest success rate.
ACE Data Recovery offers a free diagnostic evaluation for every case and a guaranteed all-inclusive price quote that will never increase. We also have a "No data - No charge" policy, which means that you only pay if we successfully recover your data. We also offer free shipping and free return media for completed projects. We have a fast turnaround time and can deliver your recovered data within 2 to 5 days for standard service or 24 to 48 hours for expedited service.
If you have lost your data from your home entertainment center due to a failed storage device, don't panic. Contact ACE Data Recovery today and let us help you restore your data and your peace of mind.