ACEPC T11 Mini PC with 2.5-Inch SATA Internal SSD
December, 2017
ACEPC T11 Mini PC with 2.5-Inch SATA Internal SSD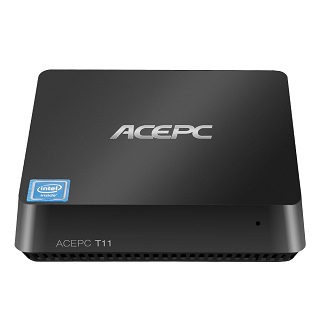 ACEPC that specializes in manufacturing and developing popular consumer electronics for global users offers T11 Series of Mini PCs that bring full PC capability to small spaces. ACEPC T11 is a hot-selling model from ACEPC mini computer company.
ACEPC T11 Mini PC Box comes pre-installed with Windows 10 Home Edition OS, powered by Intel Z8350 Quad Core Processor, 4GB DDR3L RAM, 32GB onboard storage. You can also add a MicroSD card up to 128GB to expand the storage.
The company has also announced its new model, ACEPC AK1, offering people more choices at affordable prices. ACEPC AK1 Mini PC is powered by Intel Celeron J3455 Quad Core Processor. It has 32GB of eMMC, 4GB of DDR3L memory and is pre-installed with Windows 10.
Laptops and mini PCs like ACEPC T11 Mini PC are very popular among consumers who long for a compact device that can fulfill all their work and gaming requirements while on the go. But like all electronics, Mini PCs can eventually break and make the critical files stored on them inaccessible. In this case, their owners will need a fast and reliable data recovery service.
ACE Data Recovery retains a market leadership in data recovery technologies and offers a wide range of data recovery options. ACE Data Recovery engineers are experts in providing advanced data recovery services and can recover data no matter how loss occurs. ACEs have more than 35 years of experience so they can successfully recover data from severely damaged storage devices that are considered 'unrecoverable' by other companies.
ACEs have state-of-the-art facilities and use cutting-edge tools to solve difficult issues of critical files inaccessibility and are able to develop highly specific solutions for unusual cases. The company's recovery rate is the highest in the industry. If you deal with ACE Data Recovery, you will get a perfect solution for all your data recovery needs.