Chenbro RB133G13-U10 Server Launched
July, 2020
Chenbro RB133G13-U10 Server Launched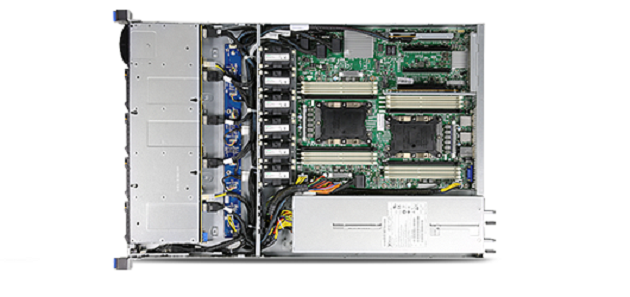 Chenbro launched the RB133G13-U10, a 1U dual Intel Xeon Scalable NVMe SSD server barebone system designed for all-flash array (AFA), tiered and virtualized storage applications in enterprise. It comes with an integrated dual Xeon motherboard and offers Intel VROC, Apache Pass, and Redfish compliance. Intel VROC works well for all NVMe as it is said to unleash full performance potential in RAID arrays.
According to Chenbro, the RB133G13-U10 is ideal for high-performance applications such as software-defined storage, HPC, Cloud computing, virtualization, and SaaS, with end-to-end security and effortless management. The Chenbro RB133G13-U10 is pre-fitted with dual Intel Xeon motherboard and can be equipped with two Intel Xeon Scalable processors with up to 28-cores, 165W TDP, with a maximum of 2TB of DDR4 memory, 2X 10GbE connectivity, 1X PCI-E Gen 3 x16 HH/HL expansion slot.
It supports ten hot-swappable NVMe U.2 drives, which is a good starting point to any company. They can be directly attached to PCIe bus on the dual-socket server board. That allows the RB133G13-U10 deliver high performance with high endurance.
The Chenbro RB133G13-U10 features scale-up storage design that help companies remain agile to meet future business needs. Thanks to being built upon the Intel Xeon Scalable system architecture, the TCO for Enterprises looking to roll-out cutting-edge storage arrays is low, Chenbro said. The RB133G13-U10 barebone is available for branding customization. It is possible to modify a server case according to a customer's needs, including personalized logo plates, silkscreens, and tailor-made bezels. The server features a tool-free design for easy upgrades and maintenance, including storage, HDD trays, system fans, and PCI-Express riser brackets.
The RB133G13-U10 1U servers are good barebone storage solutions that can scale as a company's needs grow. They will allow companies to store more data and boost performance on critical workloads with ultra-low latency direct-attached NVMe drives. But, unfortunately, these complex systems may fall victim to logical and physical failures. Then business will need to contact a professional data recovery services provider to get their critical data back. ACE Data Recovery has been providing high-quality data recovery services for more than 35 years and is ready to help the owners of Chenbro RB133G13-U10 with their data recovery needs.