Western Digital My Book Thunderbolt Duo Recovery - Hard Drive Data Recovery
Western Digital My Book Thunderbolt Duo Recovery - Hard Drive Data Recovery
You've got several years' worth of files on your Western Digital My Book Thunderbolt Duo drive, a very powerful dual-drive storage system designed with professionals in mind. If something should happen to your device, would you know who to contact? ACE Data Recovery has been in a partnership with Western Digital for over a decade. In those years, we've successfully completed thousands of projects for Western Digital customers and retrieved millions of files.
Western Digital has recommended ACE Data Recovery as the industry-leading data recovery company for their devices. So whether you need help with your My Book Thunderbolt Duo Drive or another drive, we will carefully utilize our 30+ years of experience and our state-of-the-art facilities to successfully recover your data. We understand that the information you need recovered is more than just a bunch of files.
WD My Book Thunderbolt Duo data recovery process: how it works for our clients
1.

YOU BRING

Bring or ship your failed storage media to our office for a free diagnostic evaluation.
2.

YOU APPROVE

Receive and approve an all-inclusive quote, so we can start the process immediately.
3.

WE RECOVER

Give us few days to recover your data and to copy it to a free return media.
4.

WE DELIVER

Get your data back, copy it to your computer and benefit from our free post-recovery support.
Free external hard drive or usb flash with each
completed
recovery
Our Experts are Ready to Recover Data from Your Failed Western Digital My Book Thunderbolt Duo Drive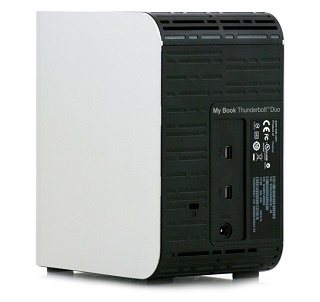 At ACE Data Recovery, we take data recovery seriously. By equipping our facilities with the latest in data recovery technology, you can be confident that your My Book Thunderbolt Duo is receiving the utmost care. Our labs also come equipped with clean rooms – rooms designed to carefully control and maintain air purity. This means that the risk of getting dangerous dust particles in your device is reduced tremendously. And we want you to be confident in us, as well. That's why we offer a free evaluation of your device. By evaluating your device, we can give you a much better idea of how much data we think we can recover. If you're comfortable with the number we give you, we'll get to work. In addition to this, if we are not able to retrieve viable files from your device, we won't charge you anything for our services.
Let Us Get Back Data from Your My Book Thunderbolt Duo Drive
We recently had a customer who brought us his My Book Thunderbolt Duo drive that he dropped while he tried to place it in his bag. He was running his small business while traveling and had several important documents and spreadsheets that he needed quickly. As he said in his review, he "was in a real pickle." After bringing the device to us, we were able to recover every single one of his documents, which is not uncommon for us. He finished his review by saying, "I don't know what I'd do without ACE. I had my files back pretty quickly and was up and running in no time." If this sounds like you, please contact us today. Let's get your files back.