Western Digital Desktop Purple Recovery - Hard Drive Data Recovery
Western Digital Desktop Purple Recovery - Hard Drive Data Recovery
WD Purple hard disk is offering something that other WD devices do not. This hard disk is especially designed to be used with surveillance systems that usually require large storage space. Moreover the device is offered for a lot lower price than any similar product, so you can never go wrong with buying it. If however, you decide to use it for storage of valuable data, make sure you keep the information safe. In case the device gets corrupted and causes you to lose the data, always ask for professional assistance. Is there anyone more competent than ACE Data Recovery?
ACE Data Recovery is a data recovery company that has been offering reliable service for more than 35 years. We have a success rate of 98% and we are not planning on backing out. As part of our services, we offer not only a data recovery from WD Purple hard drives, but also RAID recovery, SSD or flash media recovery, cell phone data recovery and even tape data recovery.
Our recovery process is simple. All we ask from you is to bring your WD Purple hard disk into our centers. In the next 48 hours we will find the cause of the the problem and contact you once we have the evaluation report and a firm price quote for the services. If this is acceptable for you, we will start the recovery process and you can expect to get both the device and your data back within 5 business days.
WD Desktop Purple data recovery process: how it works for our clients
1.

YOU BRING

Bring or ship your failed storage media to our office for a free diagnostic evaluation.
2.

YOU APPROVE

Receive and approve an all-inclusive quote, so we can start the process immediately.
3.

WE RECOVER

Give us few days to recover your data and to copy it to a free return media.
4.

WE DELIVER

Get your data back, copy it to your computer and benefit from our free post-recovery support.
Free external hard drive or usb flash with each
completed
recovery
Our Experts are Ready to Recover Data from Your Failed Western Digital Desktop Purple Drive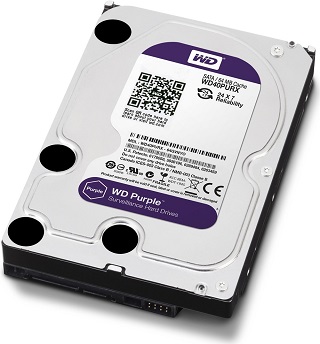 All work on the WD Purple hard disk will be done in one of our laboratories as that is the only place where we have conditions to carry out such complex procedure. The laboratories are equipped according to the highest standards and we control every aspect that might affect the process. This includes specialized clean rooms, air flow quality and much more. Since we never outsource our projects we guarantee the privacy of your data at all times. "I use WD Purple for storage of data, but I decided to connect the device with my surveillance system. Something went wrong and I lost everything I had stored. Luckily ACE Data was able to help me restore the data," said Mike who recently asked ACE Data Recovery for help.
Let Us Get Back Data from Your Desktop Purple Drive
This is the part you are going to like! In case we are not able to restore the data, as promised you won't owe us any money. We have a No data – No Charge policy, so you can be confident that we are doing our best to deliver the expected results. Call us today to get started!