NetGear ReadyNAS Business Rackmount Storages Recovery - RAID NAS Data Recovery
NetGear ReadyNAS Business Rackmount Storages recovery - RAID Data Recovery
Businesses looking for technical support for retrieving vital information from failed NetGear ReadyNAS Business Rackmount Storages don't need to look any further. The reason is ACE Data Recovery is there to give a hand and recover every single piece of intact data from inaccessible RN2120, RR2304, RR2312, RN3138, RR3312, RR4312X or RR4360X rackmount enterprise-class storage.
Those users who want to improve data processing and make it lightning-fast can use solid state drives as data storage units. NetGear ReadyNAS Business Rackmount Storages support both HDDs and SSDs. Another win!
NetGear ReadyNAS Business Rackmount Storages data recovery process: how it works for our clients
1.

YOU BRING

Bring or ship your failed storage media to our office for a free diagnostic evaluation.
2.

YOU APPROVE

Receive and approve an all-inclusive quote, so we can start the process immediately.
3.

WE RECOVER

Give us few days to recover your data and to copy it to a free return media.
4.

WE DELIVER

Get your data back, copy it to your computer and benefit from our free post-recovery support.
Free external hard drive or usb flash with each
completed
recovery
As follows from user reviews, NetGear ReadyNAS Business Rackmount Storages make a good choice for businesses that value information and want to keep it in safety for a long time. In addition to high performance, ReadyNAS rackmount storage drives support snapshot backup technology that makes it easy to save crucial data to make sure it's absolutely safe. For the best data protection, ReadyNAS provides NAS to NAS file backup and allows creating backup files with saving them to popular cloud services, such as Dropbox, Amazon, Google Drive, OneDrive, and Azure.
Our Experts are Ready to Recover Data from Your Failed NetGear ReadyNAS Business Rackmount Storages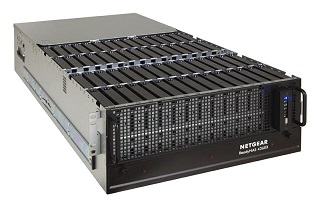 Still, there are some rotten apples even in ReadyNAS drives. Just like most well-known and widely-used network attached storages, they rely on a Redundant Array of Independent Disks (RAID) to organize data. RAID technology itself offers almost perfect protection to crucial files. The word "almost" in turn means that NetGear ReadyNAS Business Rackmount Storages share weak spots common to all RAID arrays. A sudden power surge can corrupt your files; failed firmware update can result in embedded RAID reset; loss of NAS link is also possible. In fact, there are many physical and logical failures that can make RAID inaccessible.
NetGear ReadyNAS Business Rackmount Storages data recovery: ACE Data Recovery experts can retrieve intact files back
But there's no reason to panic. Even if data gets locked on ReadyNAS storage, it doesn't mean it's lost once and for all. If the files weren't corrupted or overwritten, there's a chance to restore them even if the data storage unit is damaged.
ACE Data Recovery, a company that provides the industry-leading file recovery services to corporate and individual users for more than 35 years in a row, has all the necessary know-how to recover files from any type of storage device including NASs, SANs, iSCSI SANs, SSDs and Flash units. A team of true experts hired from all over the globe can even develop case-specific tools in order to improve chances of successful data recovery.
Not least, ACE Data Recovery charges customers for successfully completed cases only. That's right, No data — No charge!