NetGear ReadyNAS 520 Series Recovery - RAID NAS Data Recovery
NetGear ReadyNAS 520 Series recovery - RAID Data Recovery
Even the most advanced data storage device isn't perfect and can fail one day or another. The same can be said of the NetGear ReadyNas 520 Series network storages. When it comes to successful file recovery from a failed ReadyNas 520 Series drive, there's no place like ACE Data Recovery to go to for help.
Since 1981 ACE Data Recovery provides a wide range of technical services for corporate and individual users having an urge need to get critical files off failed or even completely ruined data storage devices. One of those advanced services is professional data recovery from the NetGear ReadyNas 52x Series storages including ReadyNAS 524X-Premium performance Business Data Storage, ReadyNAS 526X-6 Bays with up to 60TB total storage and ReadyNAS 528X-Premium performance Business Data Storage.
NetGear ReadyNAS 520 Series data recovery process: how it works for our clients
1.

YOU BRING

Bring or ship your failed storage media to our office for a free diagnostic evaluation.
2.

YOU APPROVE

Receive and approve an all-inclusive quote, so we can start the process immediately.
3.

WE RECOVER

Give us few days to recover your data and to copy it to a free return media.
4.

WE DELIVER

Get your data back, copy it to your computer and benefit from our free post-recovery support.
Free external hard drive or usb flash with each
completed
recovery
As follows from technical specifications, the ReadyNas 52x Series network storages is an ideal choice for small and medium-sized businesses. If there's a need of keeping vital information on a reliable NAS - RN524X, RN526X or RN528X will try their best to keep files in safety for years. In case of need, NetGear ReadyNas 52x NASs allow to make backup copies and save them on cloud services like Google Drive, Dropbox, Amazon, etc. Another pleasant thing is that NetGear ReadyNas storages make it possible to choose between various types of data storage units for network storages: HDD or SSD.
Our Experts are Ready to Recover Data from Your Failed NetGear ReadyNAS 520 Series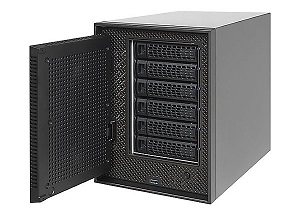 On the other hand, to organize data, ReadyNas 520 Series drives use RAID technology, which makes them vulnerable to quite specific physical and logical failures. So, a failed drive, sudden power surge, mechanical damage, failed RAID controller, failed firmware upgrade or human error can result in temporary data loss.
Fortunately, when a nasty thing happens to your network attached storage, there's a chance to restore intact data. If media weren't severely damaged or overwritten, qualified specialists can get them off the dead drive.
The specialists able to face the most serious data inaccessibility cases make the core of ACE Data Recovery. A team of experts hired from all over the globe has all the necessary know-how to deal with any type of failed data storage device including NASs, SANs and iSCSI SANs used by many industry leaders.
NetGear ReadyNAS 520 Series data recovery: ACE Data Recovery experts can retrieve intact files back
Combining the latest technologies with more than 35 years of experience in the field of file recovery, ACE Data Recovery can restore information from failed RAID arrays and solid state drives that require lots of professional attention and highly-specific tools.
When it comes to service prices, ACE Data Recovery follows a simple rule: No Data — No Charge. The point is the company charges customers for successfully completed cases only.