NetGear ReadyNAS 310 Series Recovery - RAID NAS Data Recovery
NetGear ReadyNAS 310 Series recovery - RAID Data Recovery
ACE Data Recovery is the world's leader in providing efficient technical solutions for saving vital information from permanent loss. One of the professional services provided by the company to businesses from pole to pole is data recovery from the ReadyNAS 310 Series storages full of crucial information. To restore data from inaccessible NetGear ReadyNAS 310 Series drives, the team of experienced specialists hired from all over the world uses the advantage of highly-specific equipment developed in ACE Data Recovery proprietary lab. As a result, the company's customers have a real chance of saving priceless data from permanent loss and saving some cash on a reliable file recovery.
NetGear ReadyNAS 310 Series data recovery process: how it works for our clients
1.

YOU BRING

Bring or ship your failed storage media to our office for a free diagnostic evaluation.
2.

YOU APPROVE

Receive and approve an all-inclusive quote, so we can start the process immediately.
3.

WE RECOVER

Give us few days to recover your data and to copy it to a free return media.
4.

WE DELIVER

Get your data back, copy it to your computer and benefit from our free post-recovery support.
Free external hard drive or usb flash with each
completed
recovery
The ReadyNAS 310 Series file storages are well known as a good choice for small companies dreaming of a high-class storage system capable to ensure fast and safe data backup/sharing capabilities. The models in this series use the latest backup technologies that make it possible to take save file copies on popular cloud storage services. In addition, NetGear ReadyNAS 310 Series drives support both HDDs and SSDs as the file storage units. What does it mean to you? A wider choice of data storage devices!
Our Experts are Ready to Recover Data from Your Failed NetGear ReadyNAS 310 Series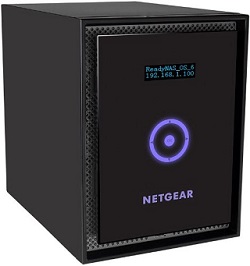 However, the ReadyNAS 31x Series network storages share the same weak spot with other popular NASs: they use RAID technology to organize data. That makes the line of NetGear network attached storages vulnerable to such "troublemakers" as failed firmware updated caused by embedded settings, failed RAID array rebuilding, multi-disk failure, RAID controller malfunction, sudden power cuts and failed boot.

Using solid state drives as data storages can add more fuel to the fire. The point is, SSD recovery requires lots of qualified time and special equipment. In opposite to hard disk drives, SSDs don't have mechanical parts that can be easily replaced to gain access to the original data array. Instead, experts have to read intact data off the failed solid state drive.
NetGear ReadyNAS 310 Series data recovery: ACE Data Recovery experts can retrieve intact files back
Luckily, ACE Data Recovery with its more than 35 years of experience in saving critical information from further corruption and loss has all the necessary know-how to meet challenges like NASs, SANs and iSCSI SANs recovery. In fact, ACE Data Recovery is the only US company capable to develop proprietary tools and software pieces in order to improve chances of successful data retrieval.
And not only that! ACE Data Recovery charges users for successfully completed cases only. That means: No Data - No Charge!