NetGear ReadyNAS 210 Series series Recovery - RAID NAS Data Recovery
NetGear ReadyNAS 210 Series recovery - RAID Data Recovery
Retrieving important information from the NetGear ReadyNAS 210 Series designed for organizing vital information is a job for qualified specialists. RAID recovery is a challenge only a team of true experts can meet.
ACE Data Recovery offers a full set of industry-leading solutions for successful ReadyNAS 210 Series recovery. If you really need to get back important files without risking their integrity, ACE Data Recovery is the best place to go to.
NetGear ReadyNAS 210 Series data recovery process: how it works for our clients
1.

YOU BRING

Bring or ship your failed storage media to our office for a free diagnostic evaluation.
2.

YOU APPROVE

Receive and approve an all-inclusive quote, so we can start the process immediately.
3.

WE RECOVER

Give us few days to recover your data and to copy it to a free return media.
4.

WE DELIVER

Get your data back, copy it to your computer and benefit from our free post-recovery support.
Free external hard drive or usb flash with each
completed
recovery
As follows from some reviews, NetGear ReadyNAS network storages give the best combination of design, performance and features. According to the vendor, they make file sharing both easy and safe, which is often critical for companies running a successful business. In addition, NetGear NASs support the latest backup technologies that make it easy to save crucial information to keep it absolutely safe.
Still, when it comes to physical data storage devices, even reliable ones like the ReadyNAS 210 Series drives, it's hardly possible to avoid issues common to all network attached storages.
Our Experts are Ready to Recover Data from Your Failed NetGear ReadyNAS 210 Series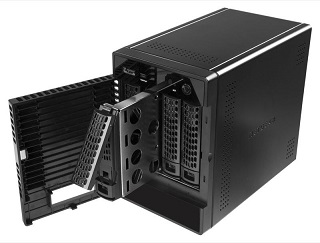 In fact, most modern NASs, including ReadyNAS 210 Series ones, use the advantage of the same data organization: Redundant Array of Independent Disks (RAID). In most cases, RAID array offer pretty good data protection. On the other hand, they aren't immune to physical and logical failures. So, one day or another data loss can happen to your company or data center. After all, anything can happen.
The most common reason of data loss NetGear ReadyNAS 210 Series storages' owners can face are: file corruption caused by a sudden power surge, failed boot or firmware crash, multiple disk failure, RAID controller malfunction, mechanical drive damages, and careless user action. In other words, there are quite specific things NAS owners have to worry about from time to time.
NetGear ReadyNAS 210 Series data recovery: ACE Data Recovery experts can retrieve intact files back
The good thing is there's a company that has both resources and expertise to give a hand to businesses in need of file recovery. ACE Data Recovery is the world's leader in providing qualified data retrieval services for both businesses and individual users.
With more than 35 years of successful hands-on experience, the team of certified specialists hired from all over the globe can restore important files from any type of data storage device including NASs, SANs and iSCSI SANs. Combining the latest technologies with unique in-house solutions, ACE Data Recovery experts can recover data other companies can't.
Another pleasant thing is that ACE Data Recovery charges customers for successful recoveries only. Don't worry, though: if it's humanly possible to recover your files, ACE Data Recovery will do it!