Intel SSD DC S3700 Series Data Recovery - Solid State Drive Recovery
Intel SSD DC S3700 Series Data Recovery - Solid State Drive Recovery
The S3700 is a replacement to the Intel 710 SSD and uses HET-MLC (High Endurance Technology) NAND. The S3700 is rated for full 10 drive writes per day (4KB random writes) for 5 years. Every solid state drive that we work on and other media devices are recovered in one of our private laboratories located across the US. Each specialized facility is equipped with the latest recovery technology that makes sure your Intel SSD DC S3700 Series doesn't suffer any additional damage during the recovery process. We have full control over the process and we keep the place impeccable! In addition, we pay special attention to the confidentiality of the data, so you can be sure that whatever is stored on that Intel SSD DC S3700 Series will never leave our lab.
Intel SSD DC S3700 series data recovery process: how it works for our clients
1.

YOU BRING

Bring or ship your failed storage media to our office for a free diagnostic evaluation.
2.

YOU APPROVE

Receive and approve an all-inclusive quote, so we can start the process immediately.
3.

WE RECOVER

Give us few days to recover your data and to copy it to a free return media.
4.

WE DELIVER

Get your data back, copy it to your computer and benefit from our free post-recovery support.
Free external hard drive or usb flash with each
completed
recovery
The data recovery process is pretty straightforward. Your job is to bring your Intel SSD DC S3700 Series to us and we will take care of the rest. We usually need up to 48 hours to diagnose the problem and inform you whether we can do anything to help. If the recovery process can be carried out and after we received your approval, we will need additional 2 to 5 business days to get the work done. You will be billed if and only if the recovery process was successful. With ACE Data Recovery, no data means no pay, as we want to keep our customers happy.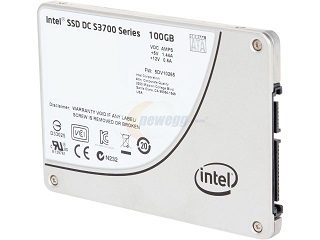 "I have Intel SSD DC S3700 Series which I use for work. I would have appreciated if someone would have told me that a solid state drive has a limited number of write cycles and that it might crash and cause me to lose everything. As you may assume, this is exactly what happened last month and I was on the verge of a nervous breakdown. A friend of mine recommended ACE Data Recovery, so I took my Intel SSD DC S3700 Series to their lab. Four days later, I had my life and my documents back. They are my miracle makers!"
Is there anything better than a satisfied customer? With 98% success rate and over 35 years of experience in the field, ACE Data Recovery has brought back the smile on many faces. We have been able to recover data from hundreds of solid state devices such as Intel SSD DC S3700 Series and bring back data which seemed impossible to restore. In addition to SSD recovery, we offer flash media recovery, hard drive and RAID recovery, SQL server recovery, mobile data recovery, tape data recovery and virtualization recovery.