Intel SSD DC S3510 Series Data Recovery - Solid State Drive Recovery
Intel SSD DC S3510 Series Data Recovery - Solid State Drive Recovery
Over the years Intel has proven to be a true leader when it comes to SSD devices. This is also evident form the success of Intel S3510 that has been a real hit for quite some time. Intel S3510 SSD offers an updated controller that has the ability to support larger drives and we can see a transition to 16nm NAND. In addition, as other Intel SSD it has a power loss protection, so you can be sure your data is safe. Solid state drives by Intel are high-quality, but it doesn't mean you'd never need to request help of a professional data recovery company to get data from your SSD back.
Sometimes despite the quality of your SSD, your data can be lost. The SSD can be attacked by a virus or physically damaged and this is when you are at risk of losing everything. Instead of attempting to restore the data by yourself, which most likely you won't be able to do, bring your Intel S3510 to us, ACE Data Recovery, and let us take care of your problem.
Intel SSD DC S3510 series data recovery process: how it works for our clients
1.

YOU BRING

Bring or ship your failed storage media to our office for a free diagnostic evaluation.
2.

YOU APPROVE

Receive and approve an all-inclusive quote, so we can start the process immediately.
3.

WE RECOVER

Give us few days to recover your data and to copy it to a free return media.
4.

WE DELIVER

Get your data back, copy it to your computer and benefit from our free post-recovery support.
Free external hard drive or usb flash with each
completed
recovery
ACE Data Recovery has been working with storage devices for more than 35 years. We have extensive experience in working on all SSDs, including the Intel S3510, as well as restoring data from hard drives, RAIDs, SQL servers, cell phone and tablets. We even do tape data recovery.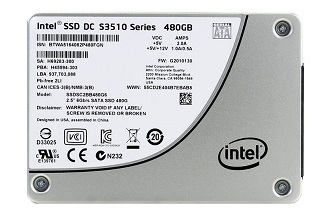 Bring the damaged Intel S3510 to us and expect a call in the next 48 hours. We will diagnose the problem and if it is something that can be fixed, we will be able to deliver results in additional two to five days. If for some reason we fail, you won't need to pay us. We have a "No data – No Charge" policy, a very positive feedback and 98% success rate in the recovery procedures. Here is what Daniel says about our services:
"The data on my Intel S3510 got corrupted and I did everything I could to restore it. After realizing that I would need professional help, as this was not something I know how to do, I called ACE Data Recovery. They told me to bring the device, which I did, and in less than a week they were able to restore all my data. I highly recommend their services."
The recovery process is carried out in one of our specialized laboratories located across the country. Every process is done under strictly controlled conditions to prevent further damage of the device and to enable a successful recovery of the lost data. In addition, we make sure the recovered data remains private at all times. If data on your Intel SSD appears to be lost, call us for a free consultation and let us get your data back.