Intel SSD DC S3500 Series Data Recovery - Solid State Drive Recovery
Intel SSD DC S3500 Series Data Recovery - Solid State Drive Recovery
The Intel S3500 announced a new generation of solid state drives that offer customers fast and consistent read performance and keep their data well protected. With this device you get excellent value for your money and assurance that you have a reliable SSD where you can store important data. Intel S3500 can serve you for a very long time, assuming you use it in accordance with the given instructions. If for some reason the data gets corrupted or you accidently physically damage the device, do not try to restore the data by yourself. Not only that you won't be able to that without proper knowledge and equipment, but you also risk damaging the device even more and making it impossible for the data to ever be restored.
Intel SSD DC S3500 series data recovery process: how it works for our clients
1.

YOU BRING

Bring or ship your failed storage media to our office for a free diagnostic evaluation.
2.

YOU APPROVE

Receive and approve an all-inclusive quote, so we can start the process immediately.
3.

WE RECOVER

Give us few days to recover your data and to copy it to a free return media.
4.

WE DELIVER

Get your data back, copy it to your computer and benefit from our free post-recovery support.
Free external hard drive or usb flash with each
completed
recovery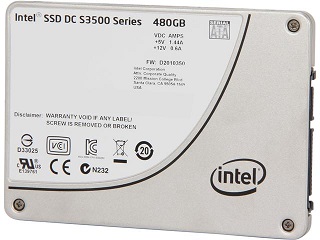 What you should do is to call ACE Data Recovery. We are a specialized company that has the expertise in any SSD data recovery, including Intel S3500, hard drive recovery, RAID recovery, mobile data recovery, SQL server recovery, and flash media recovery. Bring the device in our office and we will diagnose the problem within 48 hours for free. Then we will contact you with our findings and if the price of the services is acceptable for you, we will start the recovery process in one of our full-service labs. It will take us additional 2 to 5 days to complete the process and restore your data.
Unlike some of our competitors, we never outsource recovery projects. We put special emphasis on the privacy of your data, so you can be sure that nothing will leave our laboratory, ever! In case we are not able to deliver the promised results, you are entitled to ask for our "No data – No charge" policy, which has been implemented to assure our customers that we do our best to deliver the expected results. We have been in this business over 35 years and have a success rate of 98% which speaks enough about the services we offer.