Intel SSD DC P3700 Series Data Recovery - Solid State Drive Recovery
Intel SSD DC P3700 Series Data Recovery - Solid State Drive Recovery
Intel SSD DC P3700 Series like any other solid state drive has a limited number of write cycles, which many people don't know. That is why once in a while people report having issues with their Intel SSD DC P3700 Series that worked fine a few minutes ago. They lose their data, start to panic and if they don't have ACE Data Recovery on their speed dial they can lose a lot of time and money trying to recover the lost data. So remember if your Intel SSD DC P3700 Series starts acting weird and your data becomes inaccessible, contact us!
ACE Data Recovery has been in the data recovery business for more than 35 years and we have been successful in 98% of the cases we have worked on. We offer wide range of services including but not limited to: hard drive recovery, RAID recovery, virtualization recovery, tape data recovery, mobile data recovery, SQL server recovery, flash media recovery and we know our way around SSD devices, such as Intel SSD DC P3700 Series.
Intel SSD DC P3700 series data recovery process: how it works for our clients
1.

YOU BRING

Bring or ship your failed storage media to our office for a free diagnostic evaluation.
2.

YOU APPROVE

Receive and approve an all-inclusive quote, so we can start the process immediately.
3.

WE RECOVER

Give us few days to recover your data and to copy it to a free return media.
4.

WE DELIVER

Get your data back, copy it to your computer and benefit from our free post-recovery support.
Free external hard drive or usb flash with each
completed
recovery
We love to read what customers say about us, as that inspires us to do deliver outstanding results. Joe from Dallas, Texas says: "When I bought my Intel SSD DC P3700 Series it immediately became my favorite toy! I would spend hours transferring documents and pictures on it without backing up any of the data. I was convinced my SSD would last forever. You can imagine my surprise when the device crashed and I lost everything I had. Luckily I contacted ACE Data Recovery; brought my Intel SSD DC P3700 Series into their lab and five days later I got everything back. They did a wonderful job!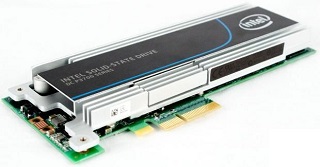 We have a policy that says: No data, no money! So you can be sure that we are always doing our best not to disappoint our customers. Depending on the issue with your Intel SSD DC P3700 Series or other media device, it will take us between 24 to 48 hours to diagnose the problem. Then we will contact you with the calculated cost and if you agree to our terms we will start recovering your data. Assuming things go according to the plan, and they usually do, you will get your Intel SSD DC P3700 Series and the recovered data, back in no more than 5 business days. In addition, we guarantee the privacy of your data, as every recovery process is carried out in our private laboratories located across the US.