Intel SSD DC P3500 Series Data Recovery - Solid State Drive Recovery
Intel SSD DC P3500 Series Data Recovery - Solid State Drive Recovery
The solid state drives, such as Intel SSD DC P3500 Series, can cause a lot of problems, especially to those who are not very familiar with the way the device works. The problem is that Intel SSD DC P3500 Series, and any other devices of the same type, has a limited number of write cycles. When you reach the limit, you risk of losing the data you have stored for years in just a matter of seconds. The worst part is that people usually don't back up their Intel SSD DC P3500 Series so when the device crashes they are in a state of panic. That is when they need professional assistance, and ACE Data Recovery would be glad to help.
ACE Data Recovery offers a number of services, such as hard drive recovery, RAID recovery, SQL data recovery, flash media recovery, tape data recovery, cell phone data recovery, and SSD data recovery including Intel SSD DC P3700 Series. We have 98% success record, over 35 years of experience and thousands of happy customers. Here is what Daniel says about our services:
"I work for a company that deals with very sensitive data so I keep everything on my Intel SSD DC P3500 Series. I had no idea that the device can be used a limited number of times, so when it crashed I was shocked. At first I was apprehensive about allowing some to get in contact with the data I have stored on my Intel SSD DC P3500 Series, but I was left with no choice. ACE Data Recovery handled the mattered very professionally, guaranteed the privacy of the information and they were able to retrieve everything, just like they promised. I could not thank them enough!"
Intel SSD DC P3500 series data recovery process: how it works for our clients
1.

YOU BRING

Bring or ship your failed storage media to our office for a free diagnostic evaluation.
2.

YOU APPROVE

Receive and approve an all-inclusive quote, so we can start the process immediately.
3.

WE RECOVER

Give us few days to recover your data and to copy it to a free return media.
4.

WE DELIVER

Get your data back, copy it to your computer and benefit from our free post-recovery support.
Free external hard drive or usb flash with each
completed
recovery
If we don't deliver the promised results, our No Data – No pay policy enables you to walk away with zero balance on your invoice! Call us to get started!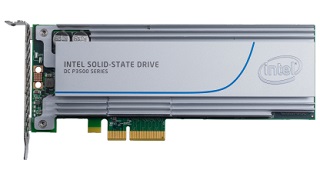 Every recovery process is carried out in one of our own laboratories located in Dallas, Houston, Chicago and Falls Church. The facility is equipped with the latest technology and we pay special attention to the conditions required for performing complex recovery processes. All we ask from you is to bring your Intel SSD DC P3500 Series, or any other media device you are having issues with in our laboratory and give us 24 to 48 hours to identify the problem. Once we know what we are dealing with, we will contact you and after we confirm the cost of the process you can expect to have the data back in less than 5 days.