Intel SSD 750 Series Data Recovery - Solid State Drive Recovery
Intel SSD 750 Series Data Recovery - Solid State Drive Recovery
People often believe that solid state storage devices like the Intel 750 NVMe PCI Express SSD are a safer way to store media files mostly because the solid state drives don't have moving parts. This misconception has brought many unfortunate customers to our Labs and Service Centers who ask us to save some of their valuable data on their Intel 750 Solid State NVMe. In fact, we have one of the highest success rates on Data Recovery from Intel SSDs.
Intel SSD 750 series data recovery process: how it works for our clients
1.

YOU BRING

Bring or ship your failed storage media to our office for a free diagnostic evaluation.
2.

YOU APPROVE

Receive and approve an all-inclusive quote, so we can start the process immediately.
3.

WE RECOVER

Give us few days to recover your data and to copy it to a free return media.
4.

WE DELIVER

Get your data back, copy it to your computer and benefit from our free post-recovery support.
Free external hard drive or usb flash with each
completed
recovery
Every media device can easily become vulnerable to power surges, physical damage or simple human mistakes that can lead to losing valuable data. Regardless of the reasons for the loss of data, the process of recovery is too complicated for somebody who lacks experience and expertise. To avoid additional damage to your media device, you should look for a company with proven track of records that can guarantee you will get the expected results. Such company is ACE Data Recovery that has been in the recovery business for over 30 years and was able to deliver positive results in 98% of the approved cases. And we are especially good at Intel SSD 750 Data Recovery, hard drives, RAIDs, flash drives and other media devices.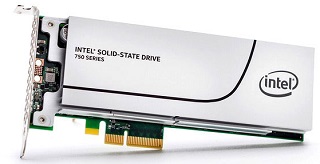 So why choose us?! Well that is simple. We have our own laboratories where we perform every recovery procedure. Each laboratory is equipped according to the highest standards and every procedure is carried out in especially designed rooms that prevent further damage to your device and enable us to perform smooth recovery whether it comes to Intel SSD 750 Data Recovery or any other media device recovery. We typically need 24 to 48 hours to diagnose the problem and additional 2-5 business days to fix it. We never do anything without consulting you first and we will never charge you for our effort if we don't recover the lost data.
Here is a testimony of one of our recent clients: "A few days ago there was a loss of power in my home and soon I realized that I lost everything I had stored on my Intel SSD 750 - I am talking about valuable memories that I couldn't afford to lose. A friend of mine recommended me to contact ACE Data Recovery and see if they can help. They were absolutely amazing and did everything as promised. They called me one day after I left my Intel SSD 750 to tell me that they were able to detect the problem and that they will need two days to fix it. It was the happiest day of my life!"
ACE Data Recovery has been offering their services for over 30 years and the 98% success rate proves that we know what we do.