Intel SSD 530 Series Data Recovery - Solid State Drive Recovery
Intel SSD 530 Series Data Recovery - Solid State Drive Recovery
ACE Data Recovery has enormous experience working on Intel 530 series SSD and similar devices, so we would be more than happy to help you recover your data. We will need 24 – 48 hours to detect the problem and see if this is something we can fix. Then we will give you a fixed price quote and tell you when you can expect to have your data back in the next 5 days. The procedure will be carried out in our private laboratory equipped in line with every requirement needed for this type of data recovery.
Intel SSD 530 series data recovery process: how it works for our clients
1.

YOU BRING

Bring or ship your failed storage media to our office for a free diagnostic evaluation.
2.

YOU APPROVE

Receive and approve an all-inclusive quote, so we can start the process immediately.
3.

WE RECOVER

Give us few days to recover your data and to copy it to a free return media.
4.

WE DELIVER

Get your data back, copy it to your computer and benefit from our free post-recovery support.
Free external hard drive or usb flash with each
completed
recovery
The Intel SSD 530, like every other SSD device, will allow you to write data to it only a limited number of times. When device reach it's write cycle limit, the solid state drive will wear out and rapidly become useless. In addition, you will most likely lose everything you have stored and if you don't find the right company to perform data recovery on your Intel 530 Solid State Drive for you, you can say goodbye to your data.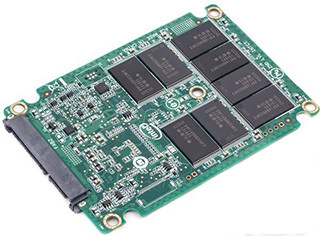 If you are one of those people who forget to back up their data, then you should put ACE Data Recovery on your speed dial. The reasons for loss of data can be different starting from a simple power cut, physical damage or a virus attack but the result is always the same - it is only a matter of time when you lose everything you have stored for years. Luckily for you, we have over 30 years of experience in recovering lost data and we have a success ratio of 98%. We perform hard drive recovery, RAID data recovery, virtualization recovery, mobile data recovery, SQL server recovery, tape data, flash media and we are especially good when it comes to SSD data recovery. We even have a custom made advanced procedure that has proven to be very effective when it comes to restoring data from solid state devices. Although we work on every SSD, we are most experienced with Intel models such as Intel SSD 530.
On top of that in case we don't deliver the expected results we won't charge you for our services. What more can you ask? Here is what our customers have to say about us: "When I brought my Intel SSD 530 to ACE Data Recovery it was severely damaged and I had no hope in ever getting my data back. But Don was here to assure me that everything will be alright and that they will be able to restore my data. They did a great job and I would recommend their services to everyone!"
ACE Data Recovery has been offering their services for over 30 years and the 98% success rate proves that we know what we do.