Intel SSD 525 Series Data Recovery - Solid State Drive Recovery
Intel SSD 525 Series Data Recovery - Solid State Drive Recovery
SSD devices such as Intel SSD 525 series are very tricky as they have a limited number of write cycles before they wear off. If you are not aware of this, as many people aren't, you might easily lose your data and get yourself into big trouble. When such thing happens, the best thing you can do is bring your device into our laboratory and let us help you solve your problem. We have extensive experience in recovering data from every device listed above, and we the expertise working with Intel products such as Intel Solid State Drive 525 series.
Intel SSD 525 series data recovery process: how it works for our clients
1.

YOU BRING

Bring or ship your failed storage media to our office for a free diagnostic evaluation.
2.

YOU APPROVE

Receive and approve an all-inclusive quote, so we can start the process immediately.
3.

WE RECOVER

Give us few days to recover your data and to copy it to a free return media.
4.

WE DELIVER

Get your data back, copy it to your computer and benefit from our free post-recovery support.
Free external hard drive or usb flash with each
completed
recovery
It will take us up to 48 hours to diagnose the problem and give you a quote for the exact cost to fix it. Then we will need additional two to five business days, depending on the problem to recover the lost data. If it's a device such as Intel SSD 525, we might fix it even faster as we have a lot of experience working with Intel devices. We would also like to emphasize the fact that every process is carried out in the privacy of our own laboratory, so you can be sure that your data will remain confidential. In addition, we have a "No Data - No Fees" policy so if for some reason we are not able to deliver the promised results, we won't charge you for our services. One of our satisfied customers sent us this comment: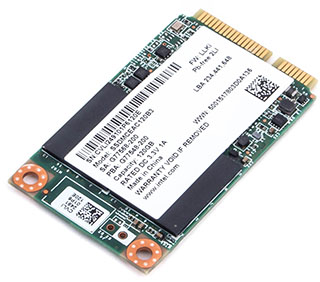 "My Intel SSD 525 crashed causing me to lose every document I had stored for years. I contacted ACE Data Recovery and they agreed to look into my problem. After 24 hours they gave me an estimate for the recovery of lost data and two days later all my documents were recovered. The staff was very helpful and delivered everything as they promised. I couldn't be happier with the results. I highly recommend you use their services in case you lose your data. As for me, I now have them on my speed dial in case I get into trouble!"
Every recovery process is complex and unique. Whether it's about tape data recovery, hard drive recovery, virtualization recovery, RAID recovery, mobile data recovery, SQL server recovery, SSD or flash media recovery, you need a professional to do the work for you.
ACE Data Recovery has been offering their services for over 30 years and the 98% success rate proves that we know what we do.