Intel SSD 520 Series Data Recovery - Solid State Drive Recovery
ACE Data Recovery specializes in data recovery processes from solid state drives, including but not limited to Intel SSD 520 Series, and is able to restore your valuable information in just a few days. Since all SSDs, even the quality ones like Intel SSD 520 Series have limited number of write cycles, at one point they will break. While the drive uses a SandForce SF-2281 controller, it comes with Intel's new firmware designed to offer much better performance than other drives with the same controller. But early firmware revision of 520 series are vulnerable to the unexpected BSOD (Blue Screen of Death) as other SF-2281 devices. When that happens, you will lose everything you haven't backed up and that is when ACE Data Recovery will come to your rescue.
Intel SSD 520 series data recovery process: how it works for our clients
Free external hard drive or usb flash with each
completed
recovery
The first step is to bring your Intel SSD 520 Series to our office. In 24 to 48 hours we will diagnose the problem and we will contact you to let you know if there is something we can do with your Intel SSD 520 Series. After we confirm the cost, we will need additional 3 to 5 days to work on the device and restore the data. Customer satisfaction has always been our priority, and this is why we've decided to implement the policy No data – No pay! That means that if we are not able to restore the data, as promised we won't charge you for our services. With 98% success ratio on approved cases you can be sure that we do our best to deliver the expected results.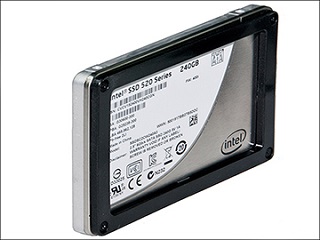 Here is what one of our customers has to say about us: "My Intel SSD 520 Series crashed in the worst possible moment. I took the SSD to ACE Data Recovery and prayed for a miracle. The guys were super professional and they were able to restore the date from my broken Intel SSD in only 4 days. I am very grateful for the work they did for me."
Apart from the solid state drive recovery, we also work on flash media recovery, hard drive recovery and RAID recovery, tape data recovery, mobile data recovery, virtualization recovery, and SQL server recovery. We have over 30 years of experience in data recovery and every day we try to find new innovative ways to enhance our service.
The recovery processes are carried out in one of our private laboratories located in Dallas, Houston, Chicago or the Washington, DC area. The facilities meet every requirement we need for our procedures. We have taken care of every aspect of the recovery including the confidentially of your data, so you can be sure that your device is in good hands. Call us today for a free consultation.