HPE XP Storage recovery - Hard Drive, SSD and RAID Data Recovery
HPE XP Storage Data Recovery - Hard Drive and SSD RAID Data Recovery
Successful file recovery from HPE XP Storage requires highly-specific tools and lots of qualified time. With this in mind, ACE Data Recovery offers unique technical solutions for professional HPE XP Storage recovery. A team of certified specialists hired from all over the globe uses only proven solutions developed in-house to piece the tiniest parts of intact data together and retrieve sensitive information safe and sound.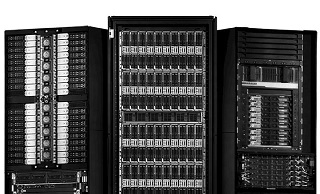 Designed to meet requirements of corporate users, HPE XP Storage provides many useful features to its owners including disaster recovery and optimal resource utilization. For better data processing, the storage uses the advantage of several solid state drives working as a single unit. To provide secure 24/7 access to crucial files HPE XP Storage relies on the RAID technology.
Unfortunately, it is widely believed that NASs, SANs and iSCSI SANs are failproof. However, even the most advanced technologies aren't perfect. Same is here: network attached storages are vulnerable to a pretty wide range of physical and logical failures. Multiple drive failure, failed Smart Array controller, drive failure caused by a sudden power surge or failed RAID volume rebuild can make tons of crucial information inaccessible or even corrupt it causing permanent file loss.
HPE XP Storage Data Recovery Process: how it works for our clients
1.

YOU BRING

Bring or ship your failed storage media to our office for a free diagnostic evaluation.
2.

YOU APPROVE

Receive and approve an all-inclusive quote, so we can start the process immediately.
3.

WE RECOVER

Give us few days to recover your data and to copy it to a free return media.
4.

WE DELIVER

Get your data back, copy it to your computer and benefit from our free post-recovery support.
Free external hard drive or usb flash with each
completed
recovery
Our Experts are Ready to Recover Data from Your HPE XP Storage
Luckily, if data isn't severely corrupted or overwritten, it is possible to retrieve it even from physically damaged storage device. ACE Data Recovery engineers have all the necessary know-how to deal with failed NASs, SANs and iSCSI SANs. Combining proprietary technical solutions with more than 35 years of experience, company experts can restore information other companies can't. In case of need, they even can develop highly-specific tools in order to improve chances of successful recovery.
And not only that! In addition, ACE Data Recovery offers the most affordable HPE XP Storage recovery services in the industry. One reason is that the company doesn't rely on any third-party solutions, so customers have nothing to pay extra money for. The other reason is that ACE Data Recovery's customer policy is quite reasonable and is based on a quite simple rule: "No Data — No Charge". That means clients pay only for saved data. All the fruitless file recovery attempts go unpaid. Besides, unit examination is on the house, as well. Fair and square.
If there's an urge need to restore sensitive info from your HPE XP Storage, consider ACE Data Recovery as a service provider, a company that knows everything about retrieving data from storage devices.