HPE StoreEasy NAS recovery - Hard Drive, SSD and RAID Data Recovery
HPE StoreEasy NAS Data Recovery - Hard Drive and SSD RAID Data Recovery
Successful data recovery from an enterprise-class network attached storage is a job for qualified specialists only. So, if you have an urge in professional HPE StoreEasy NAS recovery, feel free to call on ACE Data Recovery, the best file recovery service provider in the industry.
These days more and more businesses prefer to process and keep crucial files within their own networks. To make file processing both safe and lightning-fast, both small and large companies use the advantage of NASs, SANs and iSCSI SANs. With this in mind, the specialists of the Hewlett-Packard Company came up with a reasonable solution — HPE StoreEasy Storage family.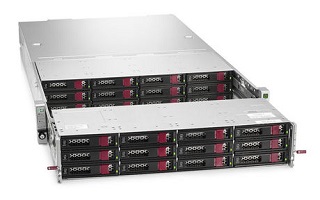 According to the manufacturer, HPE StoreEasy Storage is both affordable and highly-efficient network attached storage that ensures fast file processing, and lots of space for keeping sensitive information for years to come. In other words, HPE StoreEasy NAS is the best file storage for small and midsize businesses. The systems are file and block storage capable and ready to use SMB, NFS, or iSCSI standards.
But here's the funniest thing: no data storage device including NAS, SAN and iSCSI SAN is reliable enough to provide 100% safety to their owners' data. Sure thing, file storage can prevent important files from loss, but even the latest models of network-attached storages may fall victims to logical and physical failures.
HPE StoreEasy NAS Data Recovery Process: how it works for our clients
1.

YOU BRING

Bring or ship your failed storage media to our office for a free diagnostic evaluation.
2.

YOU APPROVE

Receive and approve an all-inclusive quote, so we can start the process immediately.
3.

WE RECOVER

Give us few days to recover your data and to copy it to a free return media.
4.

WE DELIVER

Get your data back, copy it to your computer and benefit from our free post-recovery support.
Free external hard drive or usb flash with each
completed
recovery
Our Experts are Ready to Recover Data from Your Failed StoreEasy NAS
One the one hand, when sensitive data gets locked inside a NAS or iSCSI SAN, it isn't lost forever. There's a chance to restore intact files even from completely ruined media. One the other hand, DIY methods won't cut it, as successful from devices like HPE StoreEasy NAS require lots of professional time and special equipment.
Luckily, ACE Data Recovery has both tools and extensive hands-on experience to meet the challenges related to NAS, SAN and iSCSI SAN recovery. Since 1981 the company provides the A-grade technical services to business owners and individual PC/Mac owners having a certain amount of trouble with their data accessibility.
Even if your HPE StoreEasy NAS is fire or water damaged, it doesn't mean you can't get critical files back from the drives. Not at all! If data isn't corrupted or overwritten, ACE Data Recovery experts hired from all over the world can find a way to piece the tiniest pieces of intact files together and recover them back safe and sound. That's it: things do seem easy when you leave them to the pros!