HPE ProLiant Tower Server recovery - Hard Drive, SSD and RAID Data Recovery
HPE ProLiant Tower Server Data Recovery - Hard Drive and SSD Smart Array RAID Data Recovery
Professional HPE ProLiant servers, microservers and Entry Level storages recovery is a service that ACE Data Recovery, the top provider of file recovery services in the industry, offers to medium-sized and small enterprises looking for a sure way to get crucial information from failed data storage devices.
For more than 35 years in a row, ACE Data Recovery deals with a large variety of data storage devices in order to piece the tiniest parts of sensitive data together and recover intact files safe and sound. Retrieving crucial information from failed HPE ProLiant servers, ProLiant microservers and Entry Level NASs is one of the company specialties.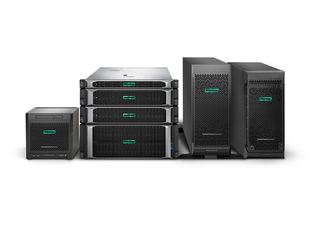 Affordable and powerful, HPE servers make a great combo of style and efficiency. Compact, quiet and easy-to-use, they make an optimal choice for growing businesses and home-based networks. To provide 24/7 access to important files and prevent them from nasty surprises, HP Tower Servers use the advantage of RAID technology.
NASs, SANs and iSCSI SANs are generally considered to be fail proof due to RAID's auto rebuilt functions. Well, it's true, but even the best cloth may have a moth in it. Same with network attached storages: they can fall victims to a wide range of physical and logical failures. Failed RAID volume or Smart Array controller, server crash, sudden power surge or careless human actions may result in serious data-related issues that may end with permanent file loss.
HPE ProLiant Tower Server Data Recovery Process: how it works for our clients
1.

YOU BRING

Bring or ship your failed storage media to our office for a free diagnostic evaluation.
2.

YOU APPROVE

Receive and approve an all-inclusive quote, so we can start the process immediately.
3.

WE RECOVER

Give us few days to recover your data and to copy it to a free return media.
4.

WE DELIVER

Get your data back, copy it to your computer and benefit from our free post-recovery support.
Free external hard drive or usb flash with each
completed
recovery
Our Experts are Ready to Recover Data from Your Failed Smart Array RAID
To avoid unpleasant situations and prevent critical data from permanent loss, it is highly recommended to perform full data backup on regular basis. There are lots of paid file storages on the web. Anyway, it's much easier to recover vital information form the most recent backup files that trying to get it back from a failed HP Tower Server.
Still, if there's a problem with the backup file itself or it is missing, the only reliable way to get priceless data back is to call on ACE Data Recovery for professional assistance.
Since 1981, ACE Data Recovery has handled hundreds of NAS and SAN recovery cases. These days the company has both tools and experience to deal even with hopeless data storage devices and recover data other companies can't. A team of certified specialists hired from all around the world uses the latest technologies to recover intact information from failed HPE ProLiant servers, microservers and Entry Level storages.
ACE Data Recovery can boast of the most affordable recovery services in the industry. The reason is that the company works without project outsourcing, which saves customers from overspending.
Dealing with professionals always pays off. Forget about DIY solutions. Contact ACE Data Recovery for qualified HP Tower Servers recovery!