HPE BladeSystem Server recovery - Hard Drive, SSD and RAID Data Recovery
HPE BladeSystem Server Data Recovery - Hard Drive and SSD Smart Array RAID Data Recovery
If there's an urge for HPE BladeSystem enclosure or server recovery, the place to address is ACE Data Recovery. For more than 35 years of providing high-grade file recovery services, the company developed a comprehensive set of reliable solutions for successful data recovery.
Using the advantage of the latest technologies, combining unique strategies with the extensive hands-on experience a team of certified specialists hired from all over the globe can retrieve temporarily lost files other companies can't.
Professional HPE BladeSystem servers and enclosures recovery is one of services ACE Data Recovery offers to corporate users interested in vital information safety.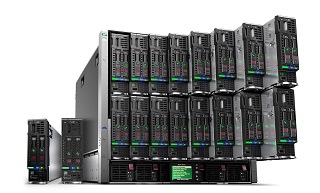 According to HP experts, BladeSystem platforms allow to optimize the company infrastructure and make it lightning-fast, extremely flexible and cost efficient. It goes without saying that HPE Blade servers provide the highest protection for sensitive information. However, do they?
To maintain 24/7 data access to vital information HP servers use the advantage of RAID technology supported by Smart Array controllers and Smart Host bus adapters. That technology is known as the most reliable one. However, even the latest technologies have weak spots. When it comes to network attached storages, they use a bundle of the drives that work as a single data storage/processing device. In turn, that device may fall victim to wide range of physical and logical failures. Clumsy human actions, failed Smart Array controller, sudden power cuts or multiple drive failure easily may put the brake on data processing and make crucial files inaccessible. As a result, temporary data loss happens.
HPE BladeSystem Server Data Recovery Process: how it works for our clients
1.

YOU BRING

Bring or ship your failed storage media to our office for a free diagnostic evaluation.
2.

YOU APPROVE

Receive and approve an all-inclusive quote, so we can start the process immediately.
3.

WE RECOVER

Give us few days to recover your data and to copy it to a free return media.
4.

WE DELIVER

Get your data back, copy it to your computer and benefit from our free post-recovery support.
Free external hard drive or usb flash with each
completed
recovery
Our Experts are Ready to Recover Data from Your Failed Smart Array RAID
When HPE BladeSystem server or enclosure is down, the only way to retrieve important information is to leave all the hard work to experienced engineers making the core of ACE Data Recovery. Forget about DIY tips on how to recover files from failed NAS, SAN or iSCSI SAN. Otherwise, you run the risk of critical files damaging or overwriting. When the files get severely corrupted or overwritten, they can't be recovered.
Don't push your luck, entrust your data to ACE Data Recovery. Those guys provide the A-grade file recovery services since 1981. These days they have all the necessary expertise to deal with the most complex cases of data loss and recover files from hopeless data storage devices.
ACE Data Recovery's policy states: No Data — No Charge. That means company customers pay only for the amount of recovered data. All the bad shots go unpaid. In addition, ACE Data Recovery relies on tools and software pieces developed in-house. That means no project outsourcing and no overspending for corporate and individual users. Only fair data recovery services for a fair price.