HPE All-Flash and Hybrid Storage recovery - Hard Drive, SSD and RAID Data Recovery
HPE All-Flash and Hybrid Storage Data Recovery - Hard Drive and SSD RAID Data Recovery
ACE Data Recovery offers professional HPE All-Flash and Hybrid Storage recovery services to corporate users facing serious issues with their high-tech storage arrays and seeking a sure way to prevent sensitive information from permanent loss.
Since 1981 ACE Data Recovery has developed hundreds of solutions for successful file recovery. These days company's experts hired from all over the globe have both equipment and experience to solve the most complex data-related issues and deal with any type of data storage device including the most advanced storage systems like HPE All-Flash and Hybrid Storages.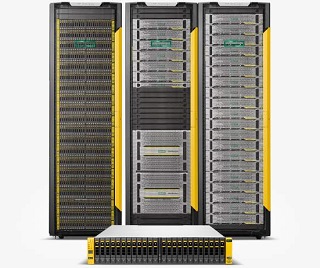 HPE All-Flash and Hybrid Storage are designed for those corporate users who want to optimize data processing and prevent precious files from corruption and loss. Easy-to-use and lightning-fast SSD-optimized, all-flash, and hybrid storages can boast of the advanced built-in data protecting system. It's a real catch for businesses dealing with tons of vital information every day.
On the other hand, HPE All-Flash and Hybrid Storages have a weak spot: just like other network attached storages, they use the advantage of RAID technology to process and store data. Generally, NASs, SANs and iSCSI SANs are quite reliable and provide a high level of file protection. Still, under certain circumstances, disk arrays may fail. Be it a failed Smart Array controller, careless human actions caused RAID volume rebuild failure or multiple drive failures caused by power cut, the result is always the same: all important files get temporarily lost.
HPE All-Flash and Hybrid Storage Data Recovery Process: how it works for our clients
1.

YOU BRING

Bring or ship your failed storage media to our office for a free diagnostic evaluation.
2.

YOU APPROVE

Receive and approve an all-inclusive quote, so we can start the process immediately.
3.

WE RECOVER

Give us few days to recover your data and to copy it to a free return media.
4.

WE DELIVER

Get your data back, copy it to your computer and benefit from our free post-recovery support.
Free external hard drive or usb flash with each
completed
recovery
Our Experts are Ready to Recover Data from Your HPE All-Flash and Hybrid Storage
The most reliable way to restore sensitive information from HPE All-Flash and Hybrid Storage is to refrain from unprofessional activity and leave all the hard work to experienced engineers making the core of ACE Data Recovery. Theu have handled hundreds of network attached storage recovery cases for the last years.
In fact, file recovery from HPE 3PAR StoreServ Storage, HPE SimpliVity or HPE Nimble Storage requires a lot of qualified time and highly-specific tools. ACE Data Recovery has both the experience and solutions to recover all intact files in one piece. In case of need, the company can develop case-specific tools in order to improve chances of success.
In addition, ACE Data Recovery can boast of a well-crafted customer policy that makes basic company services affordable to large corporations and home-based network owners. The company follows quite simple rule when dealing with customers: "No Data — No Charge". That means ACE Data Recovery clients pay only when their critical data is recovered.