HP Z Workstations recovery - Hard Drive and SSD Data Recovery
HP Z Workstations Data Recovery - Hard Drive and SSD Data Recovery
It's no big secret even the most advanced computers fail. Same with HP Z Workstations: sooner or later their owners contact professional data recovery labs for saving important information from loss.
ACE Data Recovery, the industry leader having more than 35 years of extensive hands-on experience in data recovery, offers a full set of professional services for both safe and efficient data recovery from failed HP Z1 All-in-One, HP Z240, HP Z2 Mini, HP Z VR Backpack G1 and other HP Z Workstations. Even if a hard drive is nothing but a piece of digital junk, ACE Data Recovery specialists hired from all over the world, can find a way to piece the tiniest parts of data together and recover intact files back safe and sound.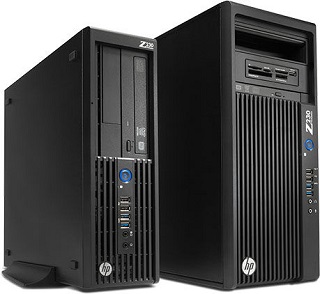 The main purpose of HP Z Workstations is to help businesses to complete intensive tasks and run the most demanding software apps. To make data processing safe and lightning-fast, some models of HP Z Workstations use the advantage of solid state drives.

Unfortunately, those powerful HP desktops are exposed to many physical and logical failures common to hard disk drives, and SSDs. Namely, careless user actions, natural disasters, failed OS/firmware upgrade can result in serious issues with data accessibility. When it happens, the only sure way to save the day and retrieve sensitive information from a faulty data storage device is to contact a reliable data recovery lab.
HP Z Workstations Data Recovery Process: how it works for our clients
1.

YOU BRING

Bring or ship your failed storage media to our office for a free diagnostic evaluation.
2.

YOU APPROVE

Receive and approve an all-inclusive quote, so we can start the process immediately.
3.

WE RECOVER

Give us few days to recover your data and to copy it to a free return media.
4.

WE DELIVER

Get your data back, copy it to your computer and benefit from our free post-recovery support.
Free external hard drive or usb flash with each
completed
recovery
Our Experts are Ready to Recover Data from Your HP Z Workstations
To avoid potential problems with crucial files it is vital to take care of your desktops and keep them away from dust and moisture. Another efficient solution to prevent temporary file loss is to back up important information and verify the most recent backup files on a regular basis. It would be enough to keep a copy of the most precious files outside a desktop. An external drive or virtual cloud would rise to that challenge.
On the other hand, even the most recent backup file can fail. When there's no chance to get important info from a backup or alternative media, the only reliable way to get files back is to call on ACE Data Recovery for professional help.
ACE Data Recovery combines high technologies with its own experience in order to deal with failed data storage devices. In addition to the industry-leading services, the company can boast of a well-crafted customer policy. ACE Data Recovery never outsources its projects and charges money only for recovered data. This makes, in turn, company services affordable for both corporate and individual users.