Apple iMac Data Recovery - Hard Drive and Solid State Drive Recovery
Apple iMac Data Recovery Services - Hard Drive and Solid State Drive Recovery
Even though iMac can boast of innovative storage technology known as Fusion Drive, it has the same chief shortcoming as many "average" desktops. Namely, all data you store on a fancy Mac drive can be lost, deleted or get inaccessible.
Fusion Drive, the core element of iMac lightning-fast performance, combines the capacity of a traditional HDD and speedwork of a modern flash drive. What does this mean for an average iMac user? Fast apps launching and quick access to favorite music/videos/photos or critical documents.
Still, even the state-of-the-art hard drive remains a hard drive. In other words, there are many factors that can affect this storage device and cause severe data loss. The most common reasons iMac users call ACE Data Recovery experts are:
Sudden power cuts and other power-related problems.
Improper shutting off, caused by a forced boot: pressing the restart button.
Various hard drive issues such as bad sectors, r/w heads damage, etc.
Improper external hard drives or pen drives extraction (without disabling or powering them off).
Vast majority of software issues and bugs.
Whatever the mishap, there's the basic rule you should always keep in mind: don't try to recover data from your iMac hard drive on your own if you don't have necessary skills. Leave everything to ACE Data Recovery engineers who are able to retrieve any kind of data from any type of data storage device.
Apple iMac data recovery process: how it works for our clients
1.

YOU BRING

Bring or ship your failed storage media to our office for a free diagnostic evaluation.
2.

YOU APPROVE

Receive and approve an all-inclusive quote, so we can start the process immediately.
3.

WE RECOVER

Give us few days to recover your data and to copy it to a free return media.
4.

WE DELIVER

Get your data back, copy it to your computer and benefit from our free post-recovery support.
Free external hard drive or usb flash with each
completed
recovery
Our Experts are Ready to Recover Data from Your Failed Apple iMac Drive
Put simply, you have six weighty reasons to choose ACE Data Recovery services:
We can retrieve data from desktops, laptops, optical data storage devices, portable USB flash drives and even tapes
We use cutting-edge solutions to cope even with desperate cases
We develop proprietary tools most appropriate to a would-be challenge
Our well-advised price policy makes data recovery services affordable for corporations and individuals
We provide thorough recovered data verification
You can also count on our post-recovery support
Let Us Get Back Data from Your Broken Apple iMac Drive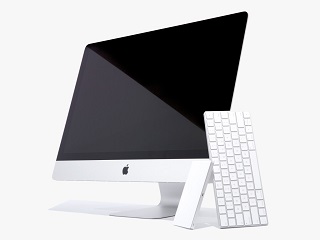 Once a faulty iMac hard drive is in ACE Data Recovery lab, our highly-skilled technical staff will examine it in to get to the bottom of the case and make sure all your data can be recovered. As a rule, it takes 24-48 hours for data recovery experts to come up with a detailed inspection report.

Next, we will generate the final quotation and send it to you. If you are OK with our terms and conditions, ACE Data Recovery engineers will turn to your iMac drive in order to retrieve all available data from it.

The fundamental of our price police states: No Data - No Charge! That means, you pay for a favorable outcome only. Call ACE Data Recovery today and get your music, pics or documents back safe and sound!